Girls track team gets off to fast start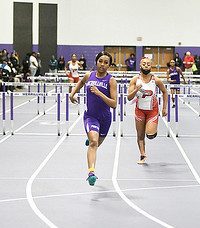 This year the girls track and field team is finding success in the indoor season and starting off on the right foot. 
The team has been working hard to reach their personal and team goals for the season with several individual and relay wins as the prepare for the start of the outdoor season this week..
At the recent NWI championships, Senior Devyn Walters took first place in the 60-meter dash and was part of the winning 4-by-200 relay team, along with Seniors Taylor Jackson, and Juniors Paige Simpson and Myriah Smoot. Jackson also won first place in the 60-meter hurdles.
"Before competing at Portage, I prepared both in and outside of practice, which is what most athletes disregard," Jackson said. 
"I prioritized the physical aspect of training, as well the mental part of it. This included me limiting stress factors, eating properly and staying hydrated, as well as getting a sufficient amount of sleep." 
Simpson is focusing on individual and team goals this year.
"[One team goal is] to be able to have more people get past Sectionals and Regionals and have a bigger group to take down to State in order to make a name for ourselves," Simpson said. "It's really a mental thing, having the right mindset to make it to State."
Training for upcoming meets requires dedication outside of practice and building on previous meets.
"Initially we started doing speed training and mostly endurance workouts to condition our bodies for the race," Simpson said. "And then we had a meet on Thursday that kind of prepared us for the meet on Saturday…We are really just practicing our form…"
Simpson also has started off the season strong and has already broken her personal record in the 60 by running a 7:84, beating her 8:04 at the start of the season. She hopes to qualify for State in the 200 meters and beat the 25:11 record.
Jackson is working hard during her last season to have success and reach one of her personal goals. She believes her hard work and dedication is showing.
"Although I always tell myself there is room for improvement, I was satisfied with my race to say the least," Jackson said. "It felt as if all the hard work and dedication I put in at practice was finally paying off. It gave me hope and essentially a preview of what's in store moving forward in my senior year…"
Jackson hopes to make her final year as a Pirate athlete a memorable one. 
"Going into my senior season, I feel that I have plenty of goals to accomplish," she said. " Every time I compete this year, I am pushing myself to compete hard and give it my all. With this being my last year in high school, I also am aiming to beat the school's record in the 100M hurdles." 
The team knows that motivating each other and reminding each other of their goals helps push everyone towards a successful season.
"Leading up to this success, each leg in the relay made it a priority of theirs to show up to practice ready to give it 110 percent, not only for themselves but for the team as a whole," Jackson said. " We encourage each other and make sure to continually remind each other of the end goal."