Don't waste your vote — deadline to register is next Tuesday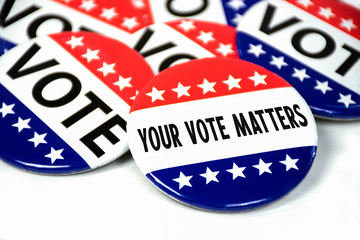 Senior Kai Anderson is excited to have the chance to vote in the upcoming election this November.
"I feel like it's important to vote because you want to choose the correct people to lead your country, city, state that you're in," she said.
Any student who will turn 18 before Nov. 8th can vote, but the deadline to register is in just four days, Oct. 11th.
You can register to vote in person, at the Post Office, License Bureau, Lake County Courthouse, or online, which is the easiest way to register  https://indianavoters.in.gov/ . You need to have a valid driver's license or state identification card.
Mr. Dana Moslander, who teaches government, stresses the importance of voting. 
"When you choose the representative who believes like you," he said, "it's as if you place yourself as the lawmaker, but when you do not vote, others will choose for you and you may get a representative who creates policy adverse to your beliefs. So, exercise your sovereignty and vote."
With this being her first election, Anderson says she feels a little skeptical. She believes she could have investigated more and looked into the people that are currently running for office.
Moslander suggests researching how candidates stand on the social issues that are important to you.
"Students should find the representative that will create policy (or laws) that match what the student believes about the social Issue (i.e. abortion, gun control laws, immigration policies, etc.)," he said.  "When you vote, you choose someone that has similar views and believes like you, but when you don't choose to vote another person will choose something adverse to what you believe by doing that you give up your popular sovereignty."
Popular sovereignty is the principle on how a state or government decides to create stability and laws with the consent of its people through political power and through the democratic process.
"It isn't just important for young people to vote, it is important for all Americans to participate in their government," Social Studies teacher Mr . Anthony Hofer said. 
"When voter turnout is low and citizens do not participate, then it opens the door for corruption to grow," he said, "and voting is the most direct way that we can assert control over those representatives and their decisions affect our everyday lives taxes, schools, roads etc."
Leave a Comment
About the Contributor
Diamond Jackson, Staff Writer
I am a senior, and I enjoy are dancing, spending time with my friends and working to see me achieve my goals in life. I plan to go to a Indiana College...