A special invitation for this year's Zombie Prom
This year, the cast of the spring musical will give new life to the undead as they put on Zombie Prom. 
"The most challenging part about rehearsing a musical like ZOMBIE PROM is the music," Director Melinda Reinhart said. "Musicals are more involved than plays because the majority of the stage time for actors is in song, with choreography or movement. Although the actors do have spoken dialogue in a musical, most of the story is told through music."
Zombie Prom, which opens this Friday, presents a special challenge for the student actors.
"The majority of the dialogue in this show is underscored, meaning there is music playing while the actors are speaking.  Dialogue must fit into the time allotted by the musical score, so there is little tolerance for error," Mrs. Reinhart said.
However, much of the cast is already in the choir so they have a leg up in preparing.
"We have many actors who are members of choir so they already know how to read music and sing," Mrs. Reinhart. "However, we do have several performers that are learning how to read music and learning how to sing, which makes rehearsals in the choir room tedious as we work on vocals."
Senior Genesis Williams stars as Toffee.
"She's the main female protagonist and love interest," Williams said. "I like her because she's challenging, a girl-next-door-type of girl, and she doesn't have an edgy side." 
"That's a little more challenging for me because I've always had characters that are a little more mean and vindictive. So to have to be a nice girl going through something traumatic is more challenging, and I actually enjoy it because her character has layers."

A play with such depth always creates fun and interesting moments for its actors.

"There is this part where Jonny (played by Terry Thomas), the main character, is singing to my character Toffee, and he's singing to me, and that's my favorite part because I really like how the melody goes," Williams said.

With success in last year's play as the character Lucy in You're a Good Man Charlie Brown, Williams has noticed some key differences between the two.

"The biggest difference between Lucy and Toffee is their base characters. Lucy is a loud brat, and Toffee is this nice girl who has a bad situation," she said. "So to play these characters year after year is kind of a switch that I flip and access different sides of myself. They are literally nothing alike so it's extremely challenging."

Although rehearsals have been going smoothly, there will always be obstacles with such a large group of people.

"I think the most challenging part is getting everybody to understand how to properly work in music along with lines, because the way this musical is set up, there is more music than there are lines," Williams said. "There are times where we have a single verse along with dialogue, and the dialogue has to fit along with the music. 
"And on top of that, we have a lot of new people. So it's a difficult show to pull off when you have a lot of new people who don't fully grasp that concept just yet. I know you'll get it eventually though, everyone here is extremely talented."

With over 90 minutes of acting, rehearsing a play this long can be tiring.

"How do we overcome obstacles and perfect performance?  Practice, practice and more practice," Mrs. Reinhart said.
Leave a Comment
About the Contributor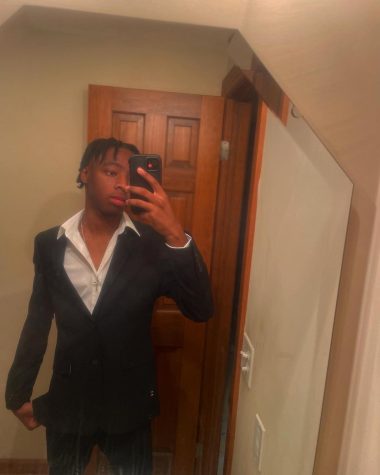 Myles Germany, Staff Writer
I like to box and I'm looking forward to starting to compete early next May. I'm going to college to study film and cinematography. After college I'm...