MHS Thespians present fall play, Rose and The Rime
The Merrillville High School Thespian Troupe is presenting its fall production, Rose and The Rime, a fantasy play written by the House Theatre of Chicago's creative team.
"The story is about a girl who is trying to save her town," Theatre Director Mr. Tom Mackey said. "The town is in a state of isolation because of a magic coin that is in possession of a witch at the top of a mountain. The girl is going to retrieve that coin from the witch, and on that journey, she encounters all kinds of obstacles, adventures, and harrowing experiences for a young girl, in order to try to achieve her goal… but that's only the first act of the play."
The show's complexity presents multiple scenarios and situations that tune the audience into the storyline, allowing them to connect themselves to nearly each character.
"The thing that's wonderful about this show is that you think you know where the story is going, but it gets there by the end of the first act," Mr. Mackey said. "Then, there's a whole other second act of the after effects of achieving goals that you think you want, and some of the dangers of rushing into a decision that you think is the best for everybody, without thinking through the consequences of those actions."
Mr. Mackey believes that this is the perfect time to present this play, regarding our current world situation.
"This play is actually a bit of an allegory for our current time," he said. "Dealing with themes of isolation, failing to remember our history, and learning the mistakes of previous generations. I find that in our current world situation, whether socially or politically, there are a lot of mistakes that are being made right now that we have made before, and we just didn't learn from those mistakes of previous generations."
Senior Lauren Molenda, playing Rose, has stood out to Mr. Mackey as "the driving force behind the show" due to her dedication to the production and the fact that the plot revolves around her character.
"My favorite part of the rehearsal process has been learning more about what I'm capable of doing," Molenda said. "Some of the things that we do that are kind of cool are these lifts in the air, somersaults on stage, and just the flow of the plot line has been really cool. Just going through the rehearsal process has let me learn a lot more about myself and what I'm capable of doing as an actress."
Molenda has been involved in theatre since her freshman year, performing in nearly 10 shows with Thespian Troupe #1692, M&M Ross Productions, and Ross Summer Music Theatre. However, this is her first lead role at the high school level, bringing forth adjustments to the responsibilities that come with it. 
"It's definitely been a lot more work and time consuming for me," Molenda said. "I feel like this show is also a lot more physical than other productions I've been in because the whole time I'm basically fighting my way through a storm. Having to physicalize things that aren't actually happening is also pretty different. The whole show I'm just like fighting wind that's not there, so it's a lot."
Molenda believes she has grown as not only an actress, but as a person throughout her experience in theatre, and is grateful for the memories she's made through her final production as well as those in the past.
"Honestly I'm really sad that this is my last show," Molenda said. "Especially because of COVID last year, we didn't get the real Fall Play experience. We still did a show last year, but it definitely wasn't the same in terms of directing and how big the fall play normally is, so it kind of feels like we missed a year. Theatre is what I love to do and I involve myself in it so much: in school, out of school, even state-wide, so knowing this is my last show is sad, but also bittersweet."
Theatre, especially at the high school level, is often overlooked and not given the support it deserves. Molenda encourages students, faculty, and the community to give theatre the recognition it deserves. 
"I think people should come see the play because the tech, cast, and the whole crew has put so much time and effort into this show, and this is just what we really love to do," Molenda said. "It just means a lot knowing that you have people there who care and support you and want to see you do well. It's also a really interesting show too. I feel like it has one of the best plot lines that we've done since I've been here. I think it's just really fun and exciting, and there's a lot of cool stuff going on, and there's never a dull moment in this show."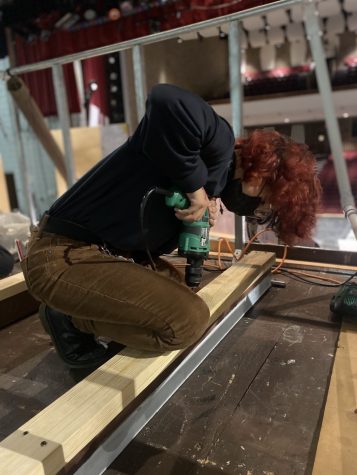 For all of the hard work seen on stage, it is equally matched by the design and production team behind the scenes. Making costumes, building sets, designing scenery, and much more. Senior Cam Chavez has put blood, sweat and tears into the design and creation of the sets and pieces used for the play.
"My favorite part of the rehearsal process so far would have to be seeing all the pieces that we've built come together and all of the interworking mechanisms," Chavez said. "It's really great seeing all of the different pieces work in unison to create the spectacle that we've tried to create."
Chavez has picked up multiple skills in the last eight weeks that have not only helped him grow as a student of theatre, but as a person as well. 
"I've definitely grown more patient and more willing to experiment with different materials and ideas," Chavez said. "It's a really rough process trying to create something from scratch, but it's really something new and awesome that I'm grateful for."
One of the most in-depth and time consuming projects to create was the 20-foot tall puppet that Mr. Mackey referred to as "approximately five times bigger than Cam." 
"Building the Witch is a very tedious process, starting with very small designs and building it up from the ground," Chavez said. "You have to take an idea and completely rework it millions of times to create something that actually works, but it's something that is really cool to see happen."
Mr. Mackey has seen tremendous growth and success from his students throughout this rehearsal process, and believes that their performance will move the audience in ways they truly could never expect.
"It's a tremendous experience," he said. "The play itself is such a roller coaster of emotions. You're going to be awestruck, you're going to laugh hysterically, you're going to be surprised at the tears that are falling from your eyes because you didn't expect such a heartwarming or heartbreaking moment. It is a visually stunning show. Lots of interesting design elements and little Easter eggs hiding all over the place."
"It's good to get out and enjoy live theatre with an audience, and be in that room and have that communal experience, with a bunch of strangers, all enjoying and engaging with this wonderful piece of art that was created almost entirely by teenagers. Kids to grandparents are going to enjoy this show, and each of them will take something unique away from it based on their own life experiences and perspectives."