Providing students with the full cadet experience
On Thursday, Nov. 11th, our nation honored the sacrifices made by veterans. At MHS, the Air Force JROTC program offers young, eager students the opportunities to receive a fulfilling and educational cadet experience. 
SMSgt Wrasman has been teaching at MHS for the past 15 years, with another 25 years of active duty experience under his belt as well. At his side, Major John Robinson, also having years of teaching experience and even a year spent serving in Kabul, Afghanistan, helps provide a well rounded background to provide their students with the best experiences possible.
One of these opportunities includes participating in Adopt-a-Highway, a promotional campaign that encourages volunteers to keep a section of a road or highway free from litter and garbage. 
Senior Yasmine Villarreal has participated in this event many times since her freshman year, and believes the experience of giving back to the community is a rewarding one. 
"We do Adopt-a-Highway twice every year, usually one in the fall and one in the spring," Villarreal said. "We divide ourselves into big groups and go different directions down Broadway, walking out of the high school and pretty far down on both ends. We go and collect the trash that's been tossed into the sides of the road. Broadway tends to get really dirty because people throw trash out their cars when they're driving by…last time I think we had more than seven bags full when we finished."
The JROTC participates in numerous other events throughout the year that contribute to the goals of serving the community, including volunteering at the food bank and assisting in organizing parent-teacher conferences here at MHS.
"The mission statement for JROTC is to develop citizens of character dedicated to serving their nation and community," Wrasman said. "So when we do community service with the food bank or Adopt-a-Highway, those are events that benefit our local area and teach the students to help out people that need assistance. By being involved in these community service events, they will develop these ideals, and they're going to be better people for our society and better for our nation".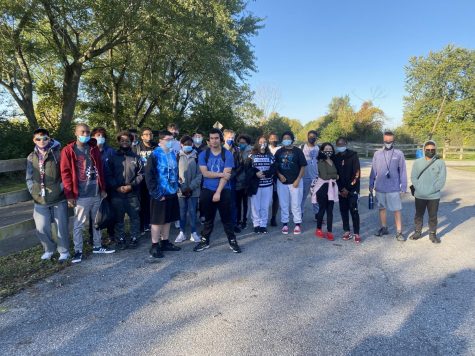 Back in October, the JROTC cadets also hiked 14 miles in four hours in commemoration of the Bataan Death March, which, according to Wrasman, is "something students never fully understand until they are taught it, and get to do it themselves."
In April of 1942, 60,000-80,000 estimated American and Filipino prisoners of war were forced to march approximately 85 miles in the span of 6 days, with only 54,000 surviving the tortuous and cruel journey. 
"[The Japanese] killed them if they couldn't keep up, if they fell out, if they got tired, if they stopped," Wrasman said. "And so when we do this small portion of 14 miles…it's a hard pace, and it's not easy for students to do. I've done it a couple of times, myself, and it really is difficult. You're constantly moving…it's not like you see students strolling around here in the high school, it is fast paced."
While the JROTC commemoration activity is nowhere near as violent as the actual Bataan Death March, SMSgt Wrasman tries to make the experience as real as possible.
"If our students aren't able to keep up with the pace of the group, I have to pull them out and put them on the activity bus, and it simulates the Japanese 'killing them off' making the experience much more real for them," Wrasman said.  
"The people that make it are looking at the people that  couldn't hold on and thinking 'okay, they're gone now'…they're literally not with them when they finish…So it kind of reinforces the harsh reality of what actually happened during the Bataan Death March."
Villareal was one of 23 students to complete the march. While she may have succeeded in the end, that victory did not come without times of struggle.
"It got extremely tiring," Villareal said. "We were just pushing on and on, and all you could see was the nature and big trees around you. Looking forward, the trail seemed to continue on forever…It made you wonder, will this ever end?"
Villareal said the experience was an eye-opening one, and allowed her to reflect on the bravery and perseverance of the thousands of victims. 
"It's so crazy to think about the people who actually had to march over six times what we did," she said. "They didn't get food breaks or water breaks or any sympathy. Even if they slowed down, they were done for. It seems so unreal to me, and I truly don't know how those who survived were able to do it."
Villareal believes her experiences in JROTC have allowed her to develop and mature in ways she could have never expected.
"I am so proud to be a member of the JROTC, and I have grown so much from my freshman year to now because of this experience," she said. "I have learned and practiced great responsibility as a cadet that has made me much more mature and have gained skills and experience in leadership, confidence, communication, discipline, and being involved in the community. These opportunities have made me a stronger cadet, student, and person."
Major Robinson and SMSgt Wrasman are grateful to have the opportunities to make positive influences on the generations of tomorrow. 
"Whether or not the JROTC cadets ever enter the military doesn't really matter," Robinson said. "What is important is that they gain the skills needed to succeed in life and learn a habit of giving back to the community."