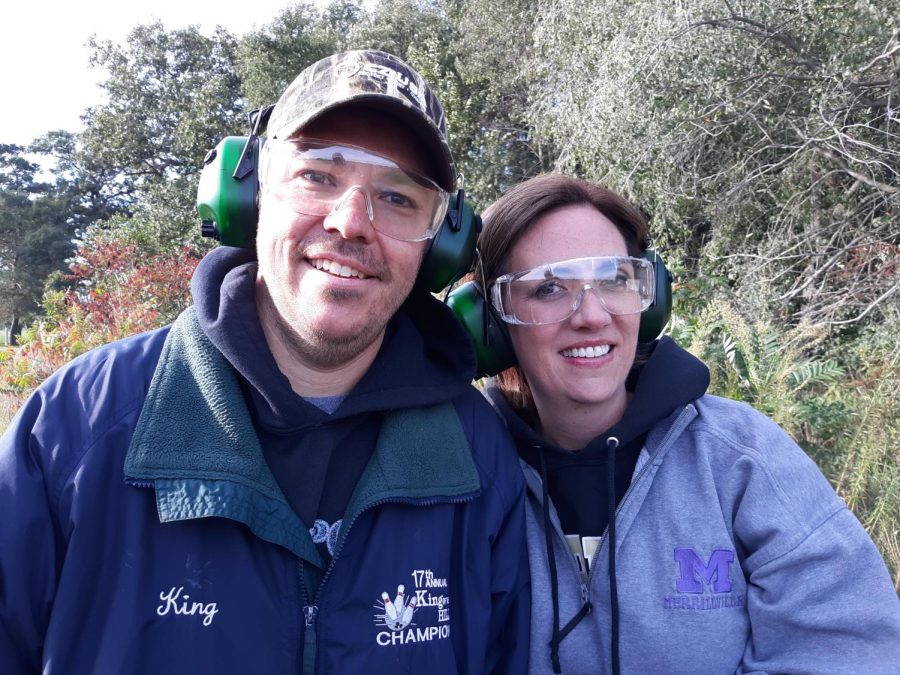 Rachel & Jason Sonnenberg
It wasn't love at first sight for the Sonnenbergs, but they definitely have found their happily ever after.
Mr. and Mrs. Sonnenberg first met in the fall of 2006. At the time, Mrs. Sonnenberg was in her first year of student teaching, and Mr. Sonnenberg was beginning his second year as an English teacher at MHS.
On the first day of school, Mr. Past, who at the time was teaching English classes at the time, introduced the two briefly as the day began. 
"Back in the day, us teachers didn't really help out the student teachers so much, so I really just met her and didn't think much about it… I even kinda ignored her," Mr. Sonnenberg said.
As the year progressed, their casual acquaintance eventually began to form into a friendship. By October, they started hanging out outside of work, and eventually had their shot at somewhat of a date.
"My best friend was getting married and I didn't have a date to bring with me," Mr. Sonnenberg said. "So she jokingly wrote an invitation down on a napkin for Mr. Sonnenberg, and the night of her wedding he ended up calling me saying, 'What time am I supposed to come?" 
Mr. Sonnenberg recalls going back and forth deciding whether or not he should really go with her to the event. After much deliberation, he reluctantly accepted his invitation. 
"The normal thing a 26-year-old guy would do is just cancel at the last minute," Mr. Sonnenberg said. "And, honestly, I almost did, but then I was like 'Nah, nah, I said I'd go… and I work with this lady… and I gotta see her every day,' so I ended up going to the wedding."
While the wedding date may have sounded like a good move, the awkwardness of the situation (along with Mr. Sonnenbergs unwillingness to take on the dance floor with his date) kept the two from really getting anywhere.
"We didn't really hit it off at the wedding," Mrs. Sonnenberg said. "My parents were there, and were like 'Who's this weird dude you brought with?'… and it just kind of ended after that."
Through the next few months the two remained cordial, and kept their friendship to a work basis. During that year, Mrs. Sonnenberg didn't have her own classroom, so she would teach her fourth period in Mr. Sonnenberg's room while he observed and used his time to catch up on any work he needed to do. 
"One day, one of my kids was acting like a fool, and I didn't react the way Mr. Sonnenberg thought I should have reacted, so he stood up and started getting into it with this kid," Mrs. Sonnenberg said. "The next day Mr. Sonnenberg came back into my room and I was like, 'You're an idiot…what are you doing? These are my students, and you're arguing with a 16-year-old!' and his famous quote was, 'He's not 16, he's 15.' After that one, I was like yeah, he's as stupid as stupid gets."
She recalls going home and complaining to her mom about the "stupid guy from the wedding" and the whole situation, but her negative impression of him changed literally overnight.
"That next day was parent-teacher conferences and a group of teachers were going out afterward," Mrs. Sonnenberg said. "Before we went, he apologized to me for the whole interaction with my student, and ended up offering to buy me dinner to say sorry, and that's how [our relationship] really started."
After that night, their relationship hit the ground running. The two dated for a year before getting engaged in the summer of 2008. They agree that they've always been a pretty typical couple that did everything at a normal pace: they dated for a year before getting engaged, and were engaged for a year before getting married.
"You get to a certain point in a relationship…like a few good months, and I thought you either gotta hurry up and break up with this girl to avoid any weirdness, or you gotta ride it out," Mr. Sonnenberg said, jokingly. "I definitely didn't want to break up with her, so we rode it out."
The proposal was not some grand gesture, but rather more of a mutual conversation and decision between the two.
"It was boring," Mr. Sonnenberg said. "She knew…she picked out the ring…even paid for some of the ring, so there was no surprise, it was just the "when"… just very lackluster."
"I never thought to ask her dad beforehand, I didn't get down on one knee… I think it was after dinner one night, we were sitting on the couch and I was just like, 'Hey, wanna get married?' So maybe I screwed that up, but she said yes!"
On August 8th, 2009 the two were married at a church near Lake of the Four Seasons and held their reception at the Croatian Center in Merrillville. 
"We got married on the absolute hottest day of the year, it was like 100 degrees out," Mrs. Sonnenberg said. "I had a brother, a cousin, and other family that got married that same year, so we had weddings like every month. Ours got pushed back to August so it was super hot, but it was a fun day!"
Through their early married life, one of their favorite things to do together was travel. They recall many family trips and cruises to places across the globe, which are some of their most memorable experiences together.
"We went to Alaska with her family, Europe with her family, and even went white-water rafting in West Virginia," Mr. Sonnenberg said. "Now our relationship didn't have much drama, but with all the traveling madness there was one time that we got mad at each other and I said, 'I don't want to go on your stupid vacation with your stupid family!' And that has become a very famous quote of mine…and of course I went on the stupid vacation with her wonderful family and ended up having a lot of fun."
A few years into their marriage, they had their two children, name and name, who are now 7 and 9 years old. 
"We waited 2 or 3 years before we had them…did all of our traveling and other fun stuff, and now we're dialed into our kids."
Over the years, the couple feel that they have grown together and learned a lot from one another.
"When we were dating, she explained to me that being in a relationship comes with compromise, and you can't be selfish," Mr. Sonnenberg said. "She was never selfish, but we definitely do everything 50/50 for the most part. Sure there's certain things that she does 100% and I do 100% but overall we definitely take care of one another."