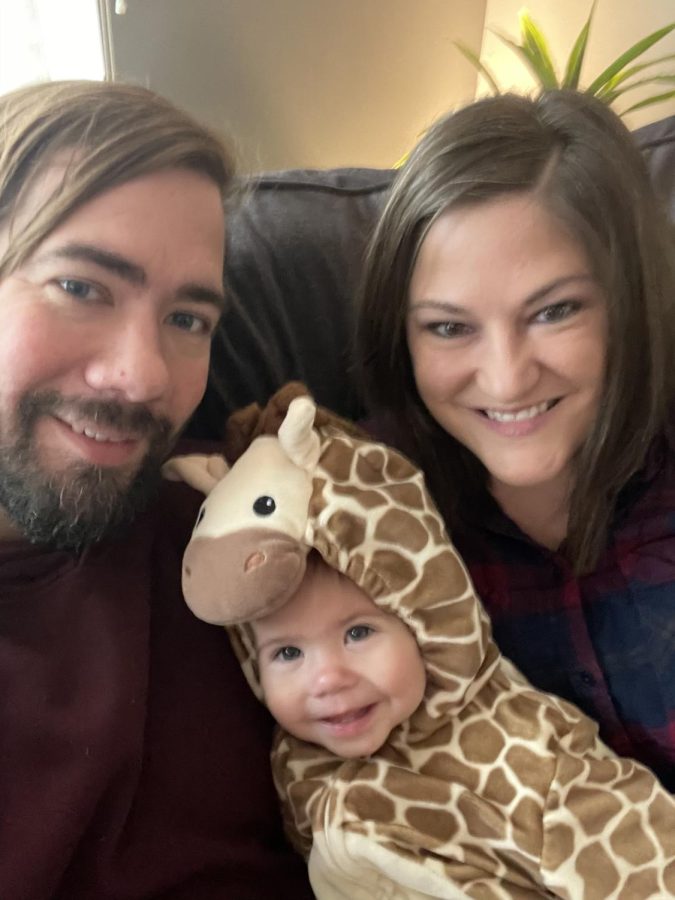 Paul & Samantha Unterfranz
For the Unterfranzes, it took a while to turn the page from friendship to romance
The Unterfranzes were hired together in 2011, and first met at the orientation meeting they went to.
"Mr. Unterfranz told me about all of the teachers in the building, who I could reach out to and talk to… I just thought he was a nice guy," Mrs. Unterfranz said. "We didn't start dating until after about five years of knowing each other, so we were just friends at first."
 The two were friends through the English department, and started getting to know one another in group settings. Eventually, Mrs. Unterfranz decided to make the first move.
"I  figured that we liked the same things, we were both single, about the same age… just had a lot in common," Mrs. Unterfranz said. " I texted him and said that I thought we should get together [as a couple] and then he didn't text me back for a long, long time. And after that I did avoid his room for a while, I would walk all the way around [to get to my room] because I didn't think he liked the text I sent."
Eventually the awkwardness cleared up, and the two started talking one-on-one outside of school.
"I do remember right before we got together we wanted to go to a concert together," Mrs. Unterfranz said. "The tickets were over $150, but I wanted to go because I really liked him, so we ended up paying the money to go see the band, CHVRCHES, in Chicago. I thought he paid for my ticket at first, but he didn't."
Their friendship eventually grew into a relationship.
"When Mr. Mizmo was here, he was trying to get us together the whole time, so I'd always go to his room and tell him, 'I think he might ask me to this wedding,' or 'I think he might do this or that,' so that was funny too," Mrs. Unterfranz said. 
The two went on their first official date at House of Pizza in Hammond.
"I remember we both wore our coats the whole time because it was cold out and I was super nervous…and we watched Adventure Land that night too," Mrs. Unterfranz said.
Over the next two years, the couple went on many, many more dates, growing their connection and love for one another. Eventually, the time came for Mr. Unterfranz to pop the question, but his plans suddenly were put on hold.
"I got into a really bad car accident and was gone out of school for almost a year because of it," Mrs. Unterfranz said. "My car flipped on 231 into a field and… it was pretty bad. At this time he was already planning to propose, already had the ring, and had all these plans to ask me to marry him… we were going to go to a concert and because we like music, but I had a concussion from the accident and his plan kinda got thrown."
"We still went to the concert, but I couldn't really go in with the lights and the noise… when you have a concussion that is not something that is in anyway pleasant,  so instead of proposing at the concert, we went back to where I had my accident. He pulled into that field, and it was late at night, like midnight maybe, and I was thinking like 'what is he doing?' Pulling into a dark field at night, I thought he was gonna kill me or something, but he ended up proposing there as a way to make the spot of the accident a better memory than what happened with my car before," she said.
They both agree that the accident had become a great milestone in their relationship.
"There wasn't really a specific moment where we were like, 'Oh, we're gonna get married' I just think that the after accident… that solidified the seriousness of our relationship," Mr. Unterfranz said.
The two were engaged for the next 13 months and spent the time planning for the upcoming wedding.
"I wanted a small wedding, but it ended up being the biggest wedding of all time," Mrs. Unterfranz said. "We got married in the chapel at Valparaiso University on the first day of fall, and it was beautiful. It just so happened that the market in Valpo had one day open, and so did the Cathedral, so it worked out for us. It was a beautiful day, it was sunny and kind of warm still for September."
The two were surrounded by fun, love, and family on their special day.
"It was really nice to see everybody together that's so important in your life in the same place at once," Mr. Unterfranz said.
After the wedding, the couple left at 4:00 am the next morning as they ventured out to Maui for their honeymoon.
"We did the Road to Hana, which was really cool," Mrs. Unterfranz said. "You drive on a mountain that has like 56 one-lane bridges, so you just gotta hope someone isn't coming around the corner. It was a great time."
After living two years of married life as a couple, the Unterfranzes added a new addition to the household near the end of summer in 2020.
"We have a daughter named Francis Kate, and she was born during the height of COVID, so that was an experience," Mrs. Unterfranz said. "She's 18 months old now, and just started walking before Christmas and is kind of talking…she makes sounds… mostly like 'dah' but she's just so much fun, and such a silly, happy girl."
Over the span of their relationship, the two have overcome challenges, but come out stronger and more connected because of them.
"I think we've grown a lot, we lost two parents this year, so that was hard…and having to deal with COVID didn't help, especially with the baby," Mrs. Unterfranz said.
They both have found qualities that they truly admire in the other and feel bring them closer as a couple.
"I love most that he can remain calm in any situation…that when I'm a crazy mess he can be the stabilizer for me that I need," Mrs. Unterfranz said.
Mr. Unterfranz reciprocates the same appreciation for Mrs. Unterfranz. 
"She's a very caring person… She's really good at that…And she's a great cook. (Keep that in there)," he said, jokingly.