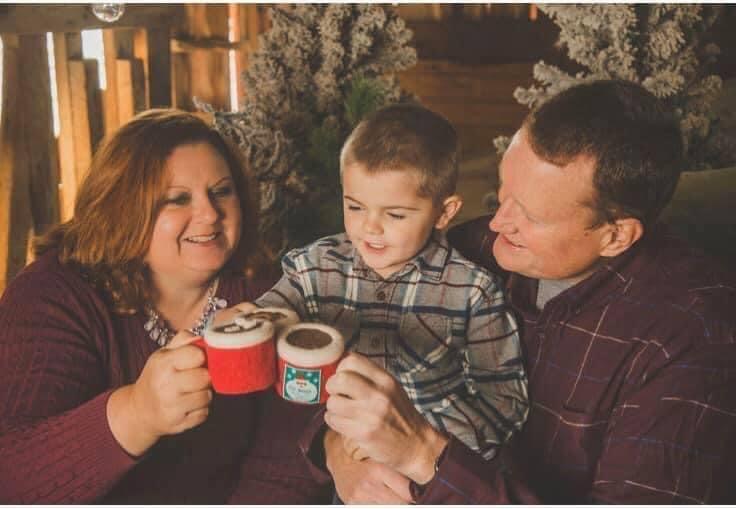 Carrie & Rob Bedwell
Carrie and Robert Bedwell first met at MHS in a professional development meeting, and from there, their relationship sparked.
"I was impressed with his vocabulary and intelligence," Mrs. Bedwell said. "I first talked to him in the Media Center during an afterschool program.  I was talking to Mr. Kasarda about Indiana University and found out that Mr. Bedwell had attended there as well, that we had lived in the same dorm, and knew some common people. We were friends for an entire school year before we went on a date." 
Mr. Bedwell would see Mrs. Bedwell in the hallways after his student teaching, and the two found common interests with each other.
"After I was done with student teaching, I worked in the Alternative Program after school…at the same time the MASH program met that my Mrs. Bedwell ran," Mr. Bedwell said. "So, we started talking more and found a common tie with people we knew at IU."
The two were both attracted to each other from the start, and built up their relationship throughout the school year.
"We were both very flirty with each other for most of the school year, so I think we kind of knew it would work," Mrs. Bedwell said. "At the time I was super involved as a sponsor of several extracurricular activities and basically lived at MHS. I always joke that I had to marry someone from work because I was always here."
Although he was hesitant to start dating his coworker, Mr. Bedwell made the first move.
"I invited her over to my house to watch movies and hang out and the relationship took off from there," Mr. Bedwell said. "I was hesitant at first about dating a coworker since I wasn't hired as a full-time teacher, but that apprehension slowly went away." 
The couple's first official date was at an art museum in Chicago and then Bennigans.
"After our first date, we were pretty much inseparable. I knew he was someone I wanted in my life for a very long time," Mrs. Bedwell said.
On their one -year anniversary, Mr. Bedwell proposed during a visit to IU and he made sure the day was memorable. 
"I think my wife knew I was going to do it, but I messed with her," he said. "At various points on the IU campus as we walked along, I would kneel down and act like I was going to propose only to tie my shoe or to pick something up, Mr.Bedwell said. "I had to keep her guessing. Eventually, after the people who were around the Showalter Fountain at IU left, I proposed there." 
The Bedwells were married at Memorial Opera House in Valparaiso. 
"Our parents treated us to a horse and carriage ride afterward," Mrs. Bedwell said. "Our reception was attended by close to 300 people and we had a blast celebrating with family and friends from all stages of our lives."
The newlyweds spent their honeymoon traveling throughout New England visiting destinations that were significant throughout history and literature.
"We traveled throughout New England visiting Walden Pond and Concord, Mass.; Boston; Martha's Vineyard, etc," Mrs. Bedwell said. "In Concord, our room at the inn, that had originally been the home of a Revolutionary War doctor, was the last stop on the ghost tour we took of the area. Needless to say we did not sleep a wink." 
Knowing that students would have many questions and comments, the Bedwells were able to keep their relationship private for over a year. 
"We took a group of students to Europe the first year we dated and we hid our relationship so well that the kids on the trip never figured out we were dating," Mr. Bedwell said. "Students at MHS thought I brought my wife to work at MHS when I got married, not realizing at first that it was a current teacher." 
The Bedwells now have an 8-year-old son by the name of Thayer, whom they adopted when he was a day old.  
Like all couples, the Bedwells have weathered many obstacles, but continue to stay committed to their relationship.
"…Our relationship is far from perfect, we don't always see eye-to-eye, but, somehow, we have managed to stay married for nearly 21 years," Mrs. Bedwell said. "I guess what is special about us is that we refuse to give up on each other.
Mr. Bedwell agrees.
"We are strong as a couple because of our love and support for each other," he said. "We are both very strong-willed people and that can be a problem at times, but we are always there for each other and have built a great life together despite our problems over 22 years."