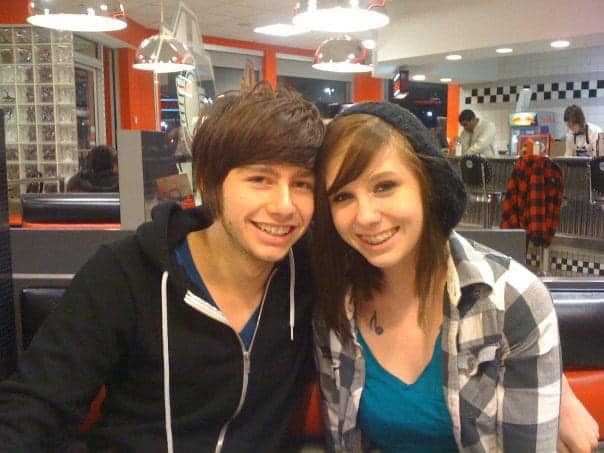 Shelby & Wesley Short
Before geography teachers Wesley and Shelby Short started working at Merrillville High School, their love for music is what brought them together when they were young. Their shared interest and common friendships, were the sparks to a relationship that has lasted for more than 10 years.  
"We were both really into the music scene…they were like concerts and stuff…I was in a band and she was friends with people that were involved in that community, so like we were aware of one another's presence, but we weren't close," Mr. Short said. 
After meeting at a concert, Mr. Short knew that she was someone he wanted to hang out with and get to know.
"I just remember thinking she was cute and from the friends that we had in common, I knew that she had a good sense of humor too because if she was cool with them then she was probably someone that was pretty cool to hang out with," he said.
First impressions can make or break a future relationship. While Mr. Short wasn't extremely extroverted when the two met, the two were able to build a friendship.
"I thought he was really quiet and kind of reserved," Mrs. Short said. "He kept to himself a little bit, so I just thought of him as the shy and mysterious type because he wasn't as loud as most of our other friends."
The friendship they shared proved to be a solid foundation for a relationship. 
"…because we had that groundwork of just being friends for some time; everything just clicked. It was super comfortable, super natural," Mrs. Short said.
 Mr. Short's initial plans to pursue in Mrs. Short was put on hold when she started dating a friend of his.
"I knew right away that I was interested in her from the very first time I saw her…but what kind of killed that was when my friend and her started dating," he said.
Mrs. Short's feelings weren't evident right away.
"He said he felt like it was love at first sight, and I didn't feel that way at all," Mrs. Short said. "I definitely saw him as a friend at first and that's it."
Eventually, Mr. Short made the first move after constantly seeing her at concerts and developing a friendship.
"We would see each other at shows and I just hit her up on the phone and said do you want to hang out and we started dating a week later and have been together ever since," Mr. Short said.
The couple dated for a year before they sealed the deal and got married.
"We started dating in 2010 and we got married in 2016, so we were together for six years before we got married," Mrs. Short said. "We probably would've gotten married earlier because we got engaged in 2011… but it was just kind of situation like waiting to finish college, waiting to start our careers, getting money."
With Mrs. Short being an introvert in public places, Mr. Short came up with a way to make the proposal and night comfortable for her.
¨…We were going to a nice italian restaurant and I was going to propose that night," Mr. Short said. "I was planning on initially doing it in the restaurant but then I was like 'I don't think she is going to like that' . . . 
"So I actually proposed to her once we left the restaurant. I just acted like there was nothing going on and I proposed in a really low-key kind of way, but she was kind of pulled back by it because she wasn't anticipating it."
Mr. Short recalls a funny moment on the drive up to the restaurant the night he was going to propose.
"…the entire time we were driving to this place… she was like complaining…, she was like 'we should just turn around and go home' and 'the traffic is horrible we're not gonna make it on time' and 'we just need to go to McDonald's'… while I have a ring in my jacket pocket, and was like 'no I think it'll be okay…I think it'll be fine,'" Mr. Short said.
With the wedding proposal was being so unexpected, she felt lots of emotion on that special day.
"I was just really surprised… I wouldn't have complained if I had any clue, but I obviously said yes, so it went well," Mrs. Short said.
For some people, being with your spouse all day can be annoying, but the Shorts believe this has been a positive aspect. 
"All the people are like, 'I don't know how you do it…that would be so annoying…doesn't she tell you what to do all day every day all the time?' And it's like well yeah, but like I don't have to all the time… like I'm my own person," Mr. Short said.
Throughout their adult life the Shorts have always been beside each other.
¨I think we grow completely together, we're very fortunate that as we changed as people we've gone through those changes together," Mrs. Short said. "We were really young when we first started dating and now we're in our 30s. We've obviously changed a lot and we've made major moves together, from going to college and starting careers and having children. We're lucky that we've grown together throughout all."