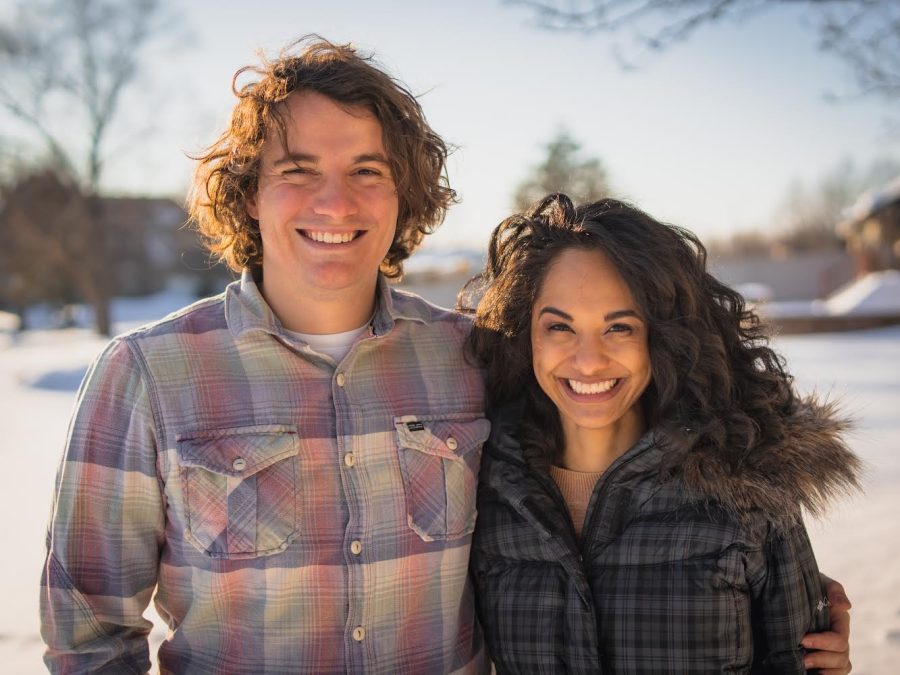 Neerja Prasad & Michael Sterling
Science teachers Mr. Michael Sterling and Ms. Neerja Prasad have been building chemistry for three years. 
Mr. Sterling and Ms. Prasad first met at a staff meeting in 2018. Ironically, their relationship started out as an awkward one.
"I thought she was married because I misheard her talking to someone," Mr. Sterling said. "She thought I didn't like her because I glared at her when she offered me a muffin."
The misunderstanding was soon cleared up.
"I thought she was very pretty, but also married so I was originally pretty surprised when she started talking to me," Mr. Sterling said. "At first, I was pretty nervous but we both seemed to keep a good work-life balance, so I stopped worrying after a while."
After they began getting to know each other, Ms. Prasad said she made the first move.
"It took me three attempts of inept flirting over six months before he realized I was interested," Ms. Prasad said. "I was nervous about dating a coworker, but I realized neither of us were the type of person to bring drama to the workplace if things didn't work out. Fortunately, things did work out!"
The two first hit it off when they went to go see a band that one of Mr. Sterling's friends was in, and from there their relationship sparked.
"I was pretty nervous, and I almost knocked over Mr. Sterling's drink with my spazzy arms," Ms. Prasad said.
The couple agrees that their love wasn't something that happened in an instance, but rather more gradually. However, Mr. Sterling recalls a moment that solidified his feelings for Ms. Prasad.
"I was on a camping trip with some friends, and while I was having a fun time, I knew it would've been better with Ms. Prasad," Mr. Sterling said. 
After three years of dating, Mr. Sterling got down on one knee and proposed in December. 
"I ordered the ring online, so I just proposed when it came in," Sterling said. "I was excited but also nervous to ask."
Despite his nerves, the proposal worked in his favor. The two plan on getting married this July, and say the wedding preparations have been going smoothly.
"We've been having fun deciding how to mix Christian and Hindu wedding traditions to make a ceremony that is uniquely ours," Mr. Sterling said.
Over the years, the two have grown as a couple and continue to motivate one another to make themselves better, stronger people.
"I like that we push each other to improve ourselves while also making sure to be patient and kind to ourselves," Mr. Sterling said.
Ms. Prasad also feels that their relationship brings out the best in them as individuals.
"Mr. Sterling is really good at communicating his thoughts and feelings, and I've been trying to emulate that," she said. "I think we both see things we love about each other and try to cultivate those characteristics in ourselves."