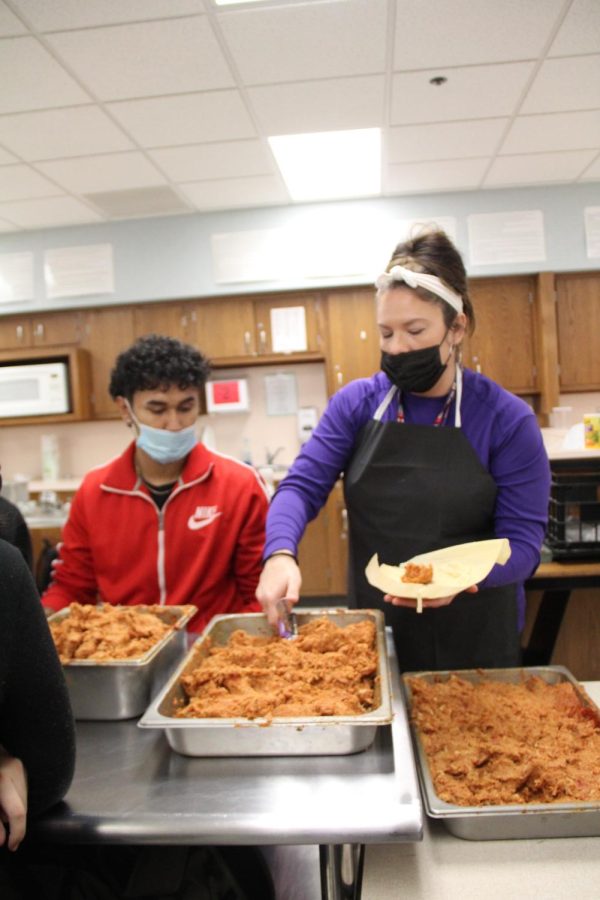 Mrs. Angela Escobedo
Mrs. Angela Escobedo, once a student through the Merrillville Community School Corporation, has made a full circle back, now teaching multiple Spanish classes here at MHS and even serving as the head of the foreign language department. 
Mrs. Escobedo began her Pirate journey in elementary school when she moved to Merrillville when she was in fourth grade, and went on to attend Iddings Elementary School, Pierce Middle School, and MHS.
"I was super involved in high school," Mrs. Escobedo said. "I was homecoming princess freshman and sophomore year, junior year I was on prom court, I played volleyball and basketball, I was in Vocalteens and in Spanish Club, served as my class president junior and senior year….I was definitely a very active student."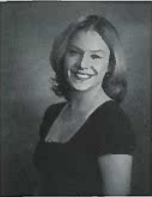 Some of Mrs. Escobedo's closest friends throughout high school have also returned to teach at MHS.
"Mr. Daniels and I were in school together from 6th grade and actually both ended up being on prom court and did the grand march together," Mrs. Escobedo said. "We were both in Vocalteens too and we were dance partners for like three years." 
One of her favorite teachers is actually still teaching here today.
"My favorite teacher in high school was definitely Mr. Past," Mrs. Escobedo said. "I actually was his soccer manager for a year. I loved English and that's what he was teaching at the time and I had his class."
Mrs. Escobedo started her high school experience out strong, but eventually craved a sense of adulthood, and was ready to explore more of the world outside of MHS.
"I was a super motivated student freshman year, sophomore year… junior year I started getting a little bit lazy and sick of school and I wanted to go away to college. A lot of my friends from volleyball were older so they were at these big schools already and I wanted to go be with them." 
In 2001, Mrs. Escobedo decided to wrap up her senior year by graduating early.
" I was so ready to grow up and get out, and it's something I regret everyday now," she said. "I wish I would have stayed and participated in all of the fun things."
After graduating, Mrs. Escobedo went straight to Indiana University Bloomington and began her college experience. She initially went in as a marketing and hospitality major.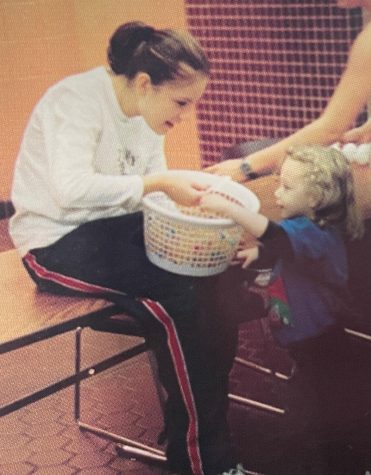 "While I was in Bloomington, I went and worked at a bunch of different resorts, some in Florida, Colorado, California, so I would travel and work in the summer at all of these places because I wanted to work for a big hotel or do event planning," she said. "With that job came a lot of socializing and partying, and it kind of took me off the path that I was supposed to be on."
After spending two years at IU traveling for work and exploring the field of hospitality, Mrs. Escobedo realized that she wanted to take a different path: teaching.
"My mom has been a teacher for 30 years, so I saw her do it and how the schedule and lifestyle worked for her, and that was the most enticing part of it to me," she said. 
Out of all the subjects to teach, Mrs. Escobedo felt the strongest connection to the foreign languages. 
"I love history and I love English, and Spanish aligns a lot with both of those things through both the cultural aspect and actually learning the grammar of it," she said. "I also already had a minor in spanish. Teaching was something I was good at, that I enjoyed doing, and it was in my home, so I had strong guidance to do it."
After earning her degree, she began teaching at Charter School of the Dunes, where she stayed for two years, and then transitioned over to Lighthouse for the next eight years.
In 2020, Mrs. Escobedo came back to her roots and began teaching Spanish at MHS.
"Coming back here felt like coming back home," Mrs. Escobedo said. "Knowing the longevity of leadership here and the support they give the teachers…Here, there are eight different language teachers, so I'm able to teach one or two different classes and four different periods. My daughter is also in Merrillville schools, so I'm closer to her."
Mrs. Escobedo loves working with her students and influencing them to make positive decisions both in the classroom and outside. 
"I love my job," she said. "I want to make an impact on the students to know that no matter what happens, even as they get older, that I'll always be here..Embracing my students with open arms, allowing them to feel comfortable to talk to me not only about Spanish and curriculum, but about their lives too."
" I just want to be a supportive person because in school it's not just what's in the classroom or in your book…Students are not going to learn well from someone they feel they can't trust or someone who doesn't care for  them. I want students to feel that it's our classroom, not just my classroom."
Along with her dedication to her students during the school day, Mrs. Escobedo also facilitates many after school activities and organizations, including STAND club, Senior Class, Spanish Club, and has taken the role of the Foreign Language Department Head.
"I try to do a lot and stay engaged because that helps kids trust you and build that relationship with you," she said.
Over the years, Mrs. Escobedo feels that while she has taught many lessons, she has also learned many that have shaped her into the teacher and person she is today.
"I learn a lot from the kids: patience, understanding, empathy. … They just bring me joy, and they're so great," she said. "I just love the kids here, they're so smart. It makes me happy every day to see them happy and to see them growing and accomplishing their goals, winning awards.. I'm over here getting emotional, but these kids truly just make me so happy."