Mock Trial argues their way to the top
Junior Folasade Zannou recently defended her diagnosis on a Zoom meet as she explained the nuances of back injuries to a competing lawyer.
While she may not be an actual doctor, she played one at the recent Mock Trial State Competition where the MHS team won two of the three rounds, and Zannou placed as a Top 10 Witness in the state.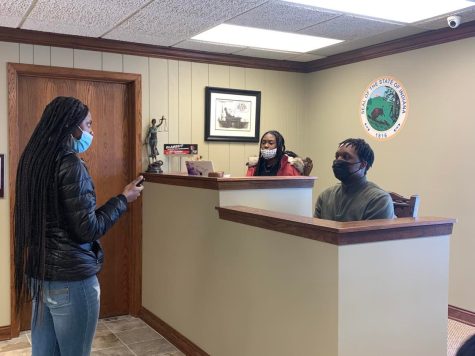 "I'm actually really into the medical field, I want to be an anesthesiologist one day," Zannou said. "I kind of already had background knowledge on the spine and muscular and other skeletal injuries, so it was really interesting to apply that previous knowledge to being a doctor in this case. Having all the medical facts in my brain and being able to debate with those terms made me feel really smart."
Mock Trial is a great source of developing social skills as well.
"It's definitely good for building confidence," Zannou said. "The most important part in Mock Trial is really being confident. If you seem unsure with what you're saying, the other team is going to tear you apart. It really teaches you to project your voice, and be confident in what you're saying even if you don't know what you're talking about. Fake it till you make it, and Mock Trial will really help with that."
With every case the team is presented with, there are specific scenarios and evidence that come into play, varying from motive, to alibis, to eyewitness reports, and more.
"That's the best part because having the same type of case over and over again makes it boring and really predictable," Zannou said. "Having a new case every year really helps you get a fresh new outlook, and having different teams with the same case is really interesting because you never know what their arguments will be. It keeps you on your toes."
The team practiced twice a week for hours on end to prepare for their arguments.
"To me the most important aspect is making sure you know the case inside and out," Zannou said. "As long as you know the details, it's easier to come up with different types of arguments, which is helpful because you never know what the other teams are going to throw at you, so it's good to be prepared and have a rebuttal for anything."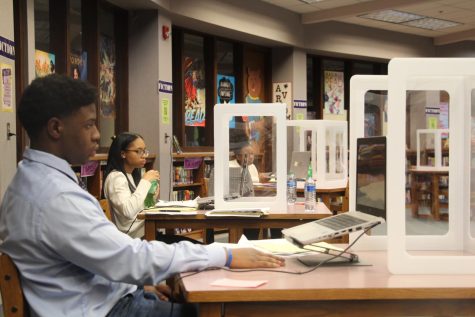 Sophomore Carlton Clay has reaped the benefits of Mock Trial both academically and socially.
"You build a bond with everyone here," Clay said. "We're like a little Mock Trial family, and it's just so much fun coming on Mondays and Wednesdays and getting to know everyone."
All of the hard work eventually pays off once practice is put into play.
"It may be a little boring at first when you're getting into it, but the more you do it and stick with it it gets really fun," Zannou said. "Especially when you have the chance to argue and object to things and actually go to the courthouse. You get to meet different people. It's a great opportunity to meet people who you otherwise wouldn't have met without Mock Trial."
The team also occasionally takes field trips to locations that can help them improve and get a better sense of law.
"My favorite memory was probably when we went to [Attorney David Gladish's] office," Junior Wisdom Chandler said. "We went on a field trip to his office, and we ate a lot of food and we practiced the entire mock trial from beginning to end. It was a learning experience, and a team-bonding experience. We all got to know each other better."
Chandler credits Mock Trial for part of her interest in a legal career after high school.
"I've always had an interest in the legal system and a legal career, but Mock Trial has really developed my future career as an immigration lawyer," Chandler said. "It really showed me strengths and weaknesses when it comes to the legal system."
Mock Trial is always looking to welcome new members with open arms.
"If you're ever interested in joining Mock Trial, don't be scared or think it's something that you have to already be good at arguing, or be in a debate club for years, or nobody's going to like me because they think I'm a terrible lawyer," Zannou said. "Nobody in the club is thinking like that. This year was a lot of people's first year doing Mock Trial, like Carlton, Marktavia, Ayanna, Adam. They were all brand new, and they did really really well.
"Marktavia won best lawyer like twice. I feel like people think it's more intimidating than it is, or they just don't even know what Mock Trial actually is. If you ever have any questions about it you can always talk to Mrs. Skertic, or me, or anyone else who's been on the team. It's really not scary, you don't have to feel intimidated even if it is your first year joining. We are always looking forward to having new members."