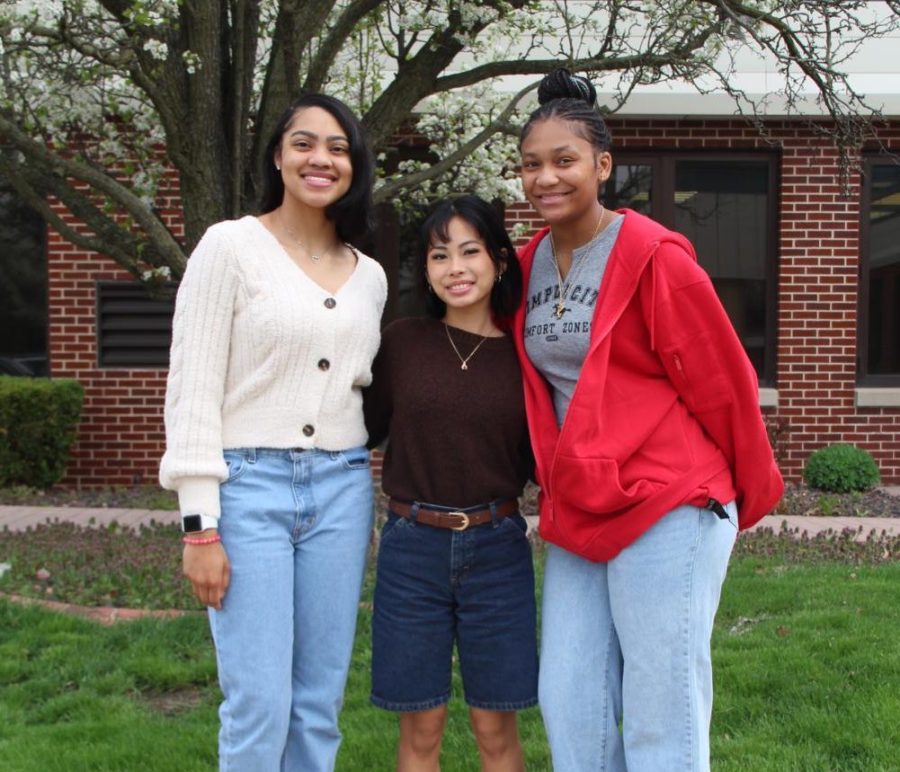 Senior Girls
Q: Tell me about your involvement here at MHS.
Merci Tan: "I am the Secretary of the Thespian Troupe, I did cross country and track my freshman and sophomore year, I'm in Advanced Orchestra, and National Honors Society."
Samya Miller: "I have been a part of the girl's basketball team for all four years and also was a freshman mentor."
Saniya Spalding: "I played volleyball for all four years and I was a Freshman Mentor my junior year.
Q. What are your plans after graduation?
Merci: "I'm going to IUB because they have a really nice campus and I've heard a lot of good things. I know they have a good art program, and that's what I'm majoring in… I'm going into Arts & Business. I chose those majors because I'm good at art and I just wanted to follow what I like doing, and Business is to help my art aspect so I can bring both up at the same time."
Samya: "I'm going to IUB for Exercise Science and a minor in Psychology. I always wanted to go to a big school and the campus is really open for me, and it was just really nice when I went down there. "
Saniya: "I'm going to Edward Waters University to play volleyball and major in Psychology. It's in Florida, and I chose to go out there, honestly, because of the weather and it was just really nice. I really liked everybody, especially all of the team."
Q. Describe what meaning that prom has to you this year
Merci: "Prom does mean a lot to me this year. We're all seniors and we never really got a chance last year with COVID and everything, so I just see it as one last chance to have a big event in the school and have a lot of fun with my friends. It doesn't really matter what happens, as long as I have fun. Also, my mom is actually making my dress for me, so it holds a bit of special meaning."
Samya: "I haven't been to any of the school dances, even freshman and sophomore year I didn't go to homecoming, so for us to be able to have prom and getting it from the school means a lot. Last year the seniors had to organize their own prom, so for us to be able to have one under the school to end our senior year is really cool."
Saniya: "Just being able to have this last chance for us to all be together and have fun with our friends. It kind of symbolizes to me that this is like the end of our childhood in a way. After this we're all branching off and going and doing bigger things, and I'm just really excited to have fun with my class."
Q. What does being on prom court mean to you?
Merci: "I'm honestly just honored to be on the prom court. I just really didn't think that the teachers would nominate me, and I didn't expect to make it to the last three. I just wanted to take this chance to use my artistic skills and have fun with campaigning."
Samya: "I didn't think I was going to get on the court, I was just thinking "Oh somebody else will get on" so when I realized I got the nomination and that I was being recognized for being a good student in class and doing my work, that was really cool. I didn't expect to be the last three, so it just feels really nice to be recognized."
Saniya: "It was so unexpected. When I found out that I was on the potential court I was like…. "Oh, that's cool… it was fun while it lasted!" And then it came out that I was in the top three, especially with Merci and Samya, who are just the sweetest people and I love them…it was just nice to be recognized especially by my teachers and the adults around the school."
Q. What are you looking forward to about prom?
Merci: "I'm just looking forward to having fun at prom and seeing who ends up being queen, and also after prom my friends and I are going down to Chicago and do an escape room, so I'm really excited for that."
Samya: "Prom is the same day as my birthday, so I just really want to have fun. This is like our last big moment besides graduation, so I'm excited to see everyone. I'm not sure what I'm doing afterward, I'm just kind of winging it and hoping to have fun."
Saniya: "I'm excited for the whole day, from getting ready to actually seeing who wins. Afterwards we're all going down to Chicago, and the next day everybody goes to Six Flags and stuff, so I'm really excited about that."