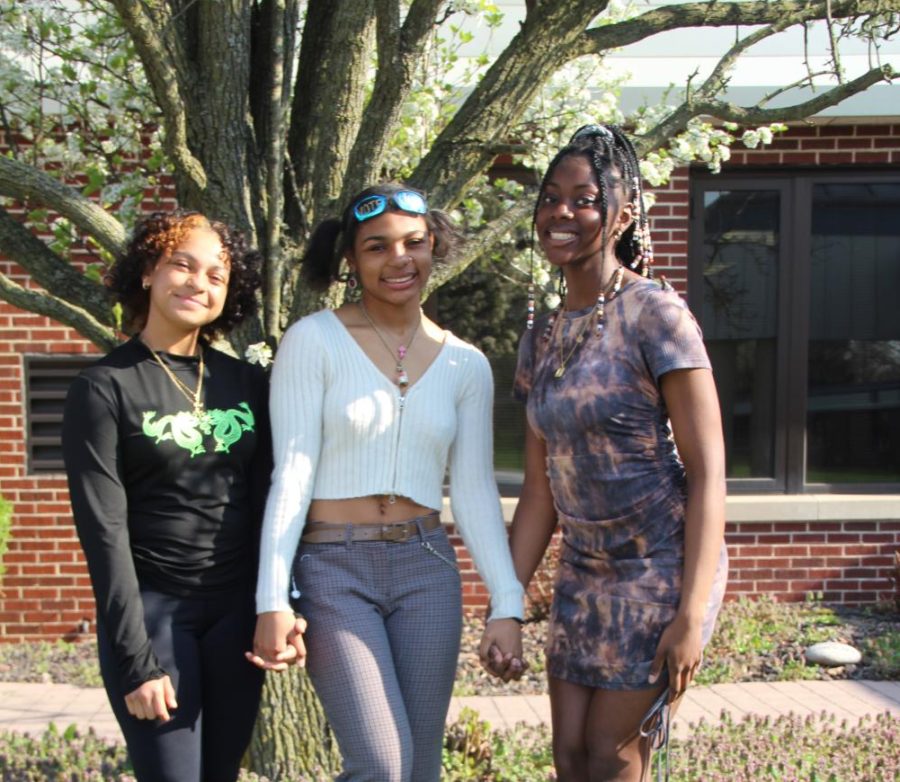 Junior Girls
Q. Tell me about your involvement here at MHS.
Emilee Thomas: "I do a lot of sports, and some clubs. I do tennis, soccer, gymnastics, and Spanish Club. I mainly focus more on sports because I like to have fun and it's friendly competition."
Kaliyah Brown: "I'm in a few sports. I do varsity soccer, and varsity track and field. When it comes to clubs, I'm heavily involved in Spanish Club, and I do theater when I can, when I'm not in sports season."
Sade Zannou: "People tell me I'm involved in too many things to be honest. I'm in Orchestra, Mock Trial, Track, I was in Quiz Bowl, and I do Freshman Mentoring. That's why I'm never at home. I always have a meeting after school or something."
Q. Describe the meaning that prom has to you this year.
Emilee: "To me, prom has a meaning of getting back to normal. This whole year we haven't been able to do things that we've done in the past years, and now it's like everything's opening back up and we're getting back to normal. We can all have fun, and just have a good time."
Kaliyah: "It's really big. I've always learned it as Junior Prom, and I feel like school is getting really serious right now so it'll be something to relieve us of our stress. And with COVID, we haven't had any real dances except for Freshman year, so I think this will be really nice."
Sade: "Prom is always meaningful. Every girl looks forward to it in life, always growing up thinking oh I want to go to prom and get a pretty dress. It's really something that means a lot to me."
Q. What does being on prom court mean to you?
Emilee: "Being on prom court is an honor because most of your teachers voted for you, and you were chosen by the teachers and students to truly deserve the title. I feel like that's an honor."
Kaliyah: "It means the world to me. When I saw that my name was on it, it was like all my dreams were coming true. I know that sounds cliche, but really it's something I've wanted. I thought of highschool, and I'm like oh my gosh, to go to prom, to be on the court, to even win. It would be a dream."
Sade: "I feel really honored. I never thought that I would be in a position to be nominated for Prom Queen. I used to be really shy, I didn't talk to a lot of people, so now that I'm campaigning I'm really just trying to do my best. Even if I don't win, I'm honored to even be on here."
Q. What are you looking forward to about prom?
Emilee: "I'm looking forward to seeing everybody there, and for all of us to have fun. Everybody's going to be dressed up, and we're all going to look our best."
Kaliyah: "I'm looking forward to hanging out with my friends, dressing up, and just meeting new people. I've talked to so many new people while campaigning, so I'm excited to make a lot more friends. After prom is going to be fun too."
Sade: "I'm looking forward to my dress and being cute. I'm trying to get this dress, and I'm getting my hair done. Just looking my best."
Q. If you win Queen what do you envision? 

Emilee: "Of course, if I win Prom Queen I'm envisioning a movie scene with the spotlight and you're standing in the middle of a crowd with everybody cheering for you. But, in reality, I kinda expect the same, I feel like it's going to be a shocker whoever wins it. I wish everybody good luck, and if you voted for me thank you, if you voted for anyone else I'm sure they thank you too. 
Kaliyah: "First, I see myself hugging both of my candidates. I'll probably be on the verge of tears because I feel like I'm not going to win. I would jump up and down, probably cry and then smile and wave."
Sade: "I envision myself on a stage, with a spotlight on me, crown on my head, and waving at everybody, saying thank you for voting for me, I love all of you. There'd be cheers, confetti, maybe even fireworks."