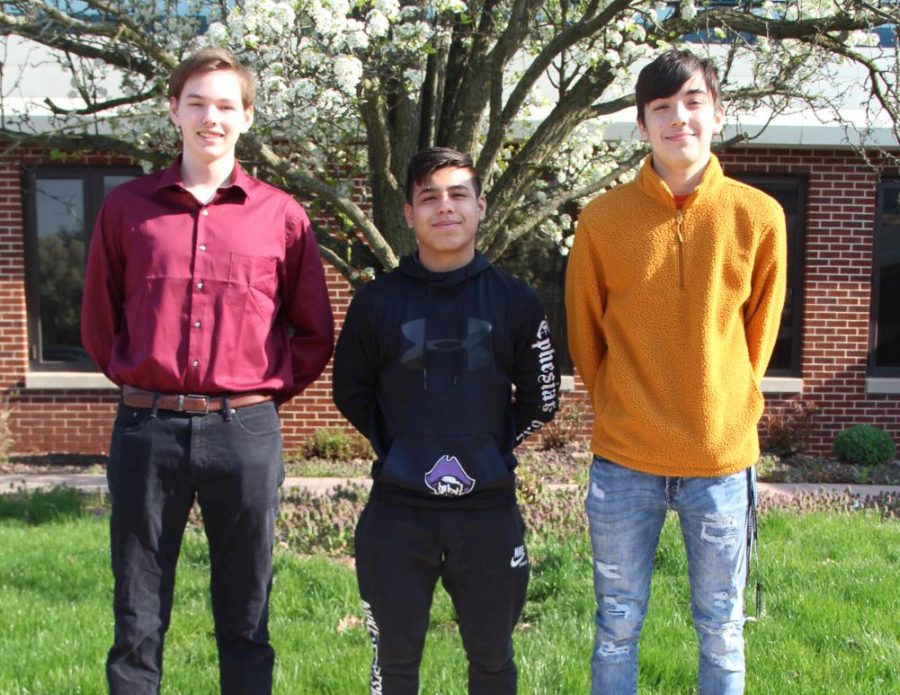 Junior Boys
Q. Tell me about your involvement here at MHS
Aleks Djukic: "I played soccer for all three years so far, it's the love of my life. I've done cheer since freshman year. I did it, I tried out one year, and it became fun. Performing arts is something that doesn't get looked at a lot. We have a fantastic performing arts program. I come from an advanced choir. We go around and do shows, gigs, and dance. It's awesome and I love it."
David Maldonado: "I've been in soccer and wrestling from freshman year up till now, i've been in culinary club and I'm in Spanish club as well. We've also done cooking assignments in culinary where we provide food for teachers and host some events."
Hunter Frangis: "I'm a part of the varsity soccer team. I'm also part of the Thespian Troupe here and there a little bit. I love doing both of those things. You know it's really good to get out with some friends and do something you really enjoy to do with a lot of people and do something part of the school."
Q. Describe the meaning that prom has to you this year.
Aleks: "It has been 3 or 4 years since there has been a prom. It's kind of weird but it's cool that we are still going to do it this year even though it's still COVID. And if I get Prom King it would be a cool story to tell my grandkids, like I was telling my three bros on the prom court whoever wins I'm going to be happy, if I win I'm going to be happy, if they win I am still going to be happy so it is a win regardless."
David: "I never really thought of Prom as something that I thought I'd be a part of, but seeing that I've been nominated by a teacher it really means a lot to me that the teachers see me as someone who's a leader and shows the Pirate pride. I'm really honored to be nominated. It's nice having two courts and I think it's nice that our seniors are getting the chance to get their prom back as well." 
Hunter: "I feel like Prom is definitely special because the past two years the seniors haven't been able to enjoy anything. It's definitely rough and I do feel bad for the last two years cause I do know some people are graduated that don't have the opportunity to do all of this. But it does mean a lot because I get to share this time with a lot of my friends, especially the ones that are gonna be graduating that I'm gonna be able to see next year and also the ones that I'm going to see next year. It's gonna be a fun time for sure."
Q. What does being on Prom Court mean to you?
Aleks: "It's an honor. It's not just the teachers giving it to you, yeah they nominate you on the Prom Court, but it's the students that are voting for you and your teachers see what you are doing and your peers see what you are doing. It's not just one but the whole school sees what you are doing."
David: "It's someone who the teachers see as a good role model, and it's a great honor that my teachers view me as such."
Hunter: "Honestly, I really appreciate being on Prom Court. It does mean a lot to me. I was definitely surprised when I got nominated in the beginning and especially in the top three. I was just in shock. Honestly, with the other two candidates, David and Aleks, they're some of my two good friends, so I feel like whoever takes it takes it. Either way, If I get it or if they get it, I'll still be happy. I'll be happy for some of my friends if they win."
Q. What are you looking forward to about prom?
Aleks: "Having fun with my friends, watching everyone do what they do. Like in the movies where you see prom and everyone goes into a circle and people are dancing in the middle. That would be pretty cool if that actually happens. Seeing everyone with their dresses and seeing the cool color combos. And talking to people I don't really talk to in school. It's the one time we are really unified not as juniors and seniors but as Merrillville High School."
David: "I'm really just trying to enjoy the experience and have a good time. It's really cool to be running with my friends, you know. For us it's not really a matter of who's winning, it's about us being a part of prom and going through this together. So I just wanna have a good time."
Hunter: "Definitely being with friends for sure. Definitely just getting out, being with friends, hanging around. Just having a good time. Taking pictures. Just enjoying the memories that we're making at the time that night."
Q. If you win Prom King what do you envision?
Aleks: "I'm going to be excited but not going to let it show and keep it on the inside. If they call me my name I'm going to do that little smirk that I do, and do my beautiful Justin Bieber flip."
David: "I've never really thought about it that far, I think I'd be really nice but like I said it was never really about winning for me. It's about having a good time, enjoying the time with my friends, and it's a real honor to be on the court with all of these guys."
Hunter: "I mean, I would definitely be really shocked if I win because I'm against two people that are definitely known for sure. They're known for their good auras and all that. I mean, I'll definitely be happy for sure. I'll definitely be celebrating with my friends for sure. I think it'll just be good if I win."