MHS teachers share special Prom memories
Prom is the biggest event juniors and seniors look forward to every year. They will be making memories to recall decades in the future. We asked the teachers here at MHS to take a trip down memory lane to call back to their own best memories of Prom.
The most recent senior turned teacher at MHS is Mrs. Hannah Gaffney who graduated in 2014. The biggest song she remembers from Prom was V.I.C.'s line dance song "Wobble."
"I feel like dresses were really flowy," Gaffney said. "They'd be tight on top and then flowy down. High-low dresses too were really in for Prom. It was just looking at the specific Prom dress brands like Sherri Hill."
Fortunately, Prom dresses in this era weren't inspired by the typical 2014-esque fashion trends which included Ugg boots and patterned tights.
As for Mrs. Gaffney's send-off, she said they took pictures first, then went  out to a fancy dinner with her group of friends, and then wound up at the actual Prom dance. After Prom, she changed clothes and attended multiple after-parties including the school's.
"I don't think anybody really stayed at the actual Prom dance that long. After Prom, we'd go change and then we'd go to the school after Prom thing. And there would usually be after-parties."
This goes to show that not much has changed in the last 8 years… including Mrs. Gaffney's relationship status. Her senior Prom date was her future husband and still is to this day.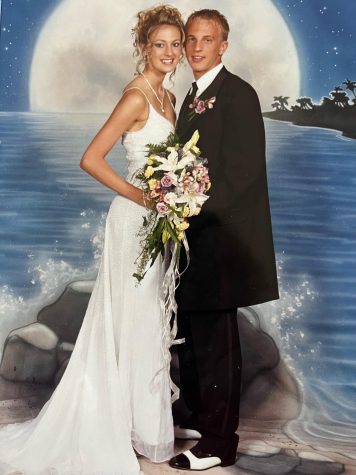 Gym teacher Mr. Ben Daniel graduated from MHS in 2001 and attended Prom both his junior and senior year. He said both guys and girls dressed how celebrities would for the Oscars such as the typical black and white tux for the guys. 
"Usually the vest and the tie matched. What wasn't in fashion was the colorful tuxedos," he said. "The girls always looked good, and that's still the case, but the guys just wore a black suit. The girls take it very seriously and they're always beautiful. But the guys were very plain, almost like they were getting married. Now, a lot of guys wear a whole lot of colors."
As for songs back in the post Y2K era, boy bands were the thing. Especially the more popular ones that we know of today, such as NSYNC, whose song "This I Promise You" was the biggest song played at Prom in 2001. 
Mr. Daniel's pre-Prom activities consisted of getting together with his friend group at one of their houses where they would take pictures and eating a few snacks. He described it as similar to a wedding because of the amount of photos they would take. By the end, he and his friends were tired of smiling.
Mr. Daniel offers some useful advice for this year's Prom goers and just about anybody else in high school.
"Don't get too worked up. Don't get yourself mad or frustrated. What I would always recommend for anybody in high school is to take the time and enjoy it," he said. 
"Just really have some fun with it and make sure you're not getting yourself in trouble. Because Prom is the time where people get in trouble, and I know that alcohol and things get put in and I highly suggest staying away from that because you can get yourself in trouble for the rest of your life." 
Assistant Principal James Stamper graduated from MHS in 1997. He went to Prom his sophomore, junior and senior year. Unlike Mr. Daniels, Mr. Stamper wasn't really into the boy band scene.
"One thing I didn't get into were the boy-bands like New Kids On The Block and NSYNC," he said. "If those songs came on that's when I would go and get a pop or eat some hot wings or something they would have at the food table."
Mr. Stamper's send-off consisted of the usual: taking pictures with his group of friends. Except instead of taking them at someone's house, it was usually on a golf course. Besides that, it was also a bit of a spectacle for him because of the fancy cars he got to borrow for the night.
"We would always borrow a relative's car," he said. "One time, I borrowed a red Camaro from a girlfriend's brother. Then one time I dated another girl whose mom was older and they had a silver Cadillac DeVille. I remember I borrowed their Cadillac and drove it to Prom. And her dad was really nervous about it."
Following Prom, Mr. Stamper would make his best memories as his friends kept the fun going.
"There was a year that we went to Great America the day after and I think that was more fun," he said. "It was just good times and being with your friends. You know you're a senior and you're kind of on your own and you got a drivers license. You're with all your friends just trying to make end-of-the-year memories."
Mrs. Amber Baron, who didn't graduate from MHS but now teaches — here, graduated in the 1980s, and their is one trend she will never forget.
"One of the biggest fashion trends of the late 80s/early 90s was the big hair! Yes, we all had big hair— even at Prom!" Mrs. Baron said. "All of the celebrities and rock stars had the big hair, male and female."
The music from her Prom resemble a who's who of the best of '80s music.
"I can't remember a particular song, but lots of music and a wide variety— from Janet Jackson, Madonna, Paula Abdul, Debbie Gibson, MC Hammer, Bobby Brown, Def Leppard…"
After Prom was spent going to dinner or engaging in fun activities, usually in another state or city. Like Mr. Stamper, Mrs. Baron and her fellow classmates always went to Great America. 
One year, her mom had a special surprise waiting when she got home.
"Most went to Chicago after Prom for boat cruises, dinner, limo cruises, etc.," she said.  "The next day was always Great America. And one of my favorite Prom memories is of my mom having a homemade, late-night breakfast buffet for my friends and I when we got home."
From these recollections of old memories from your very own MHS teachers, maybe you could bring back a trend or two. 
Bring back big hair or high-low dresses. Pull up in your relatives' old cars like Mr. Stamper. Or you could take Mr. Daniel's advice. Take the rest of your time in high school, sit back, relax, and enjoy it. And reminisce about it in the future.