Singles players made strides over season
Although their season ended with a loss in the Sectional finals, Senior Lauren Turner and Sophomore Laci Hamilton made key moves that helped the team progress. Turner moved from playing No. 3 singles to now playing No. 1 singles while Hamilton transitioned from playing doubles to singles. 
Turner and Hamilton have a long history of playing tennis that starts when they were in middle and elementary school respectively.
Hamilton began playing tennis when she was 9 years old because she wanted to expand  her horizons and she didn't see many others playing tennis. The more she played, the more she wanted to improve her skills. 
"From attending numerous summer camps, intense private lessons, and many more events, I am now at the high school varsity playing level," she said.
Turner, on the other hand, moved to varsity her sophomore year, where she played No. 3 singles. Playing No. 1 singles her senior year was a real eye opener for her. 
"I learned a lot from the experience and it taught me more discipline in the sport," Turner said. "Moving up to No. 1 is even harder I would say. But I'm really grateful that I have a leadership role on the team."
 Turner described putting all of the different actions together in one play as a puzzle being put together. 
"Being a singles player, you're in your own world in your own court by yourself," she said. "Just you and that other person playing. There are just so many different shots and different things you can do to win. It's like a puzzle piece basically. That's what I love about it."
Hamilton's passion for tennis comes from the peace of mind that she finds on the court. Hamilton scored the team's only win against Andrean in the Sectional final.
"I have freedom on the court," Hamilton said. "It all ranges from the satisfaction of killing the ball on a volley to finally coming out on top after a 20-shot rally." 
Moving from doubles to singles this year was a big accomplishment for her.
"It was always one of my long-term goals in tennis ever since I was in middle school," she said. "I'm glad that I'm good enough to be able to. 
"I always wanted to experience being on the court by myself. With doubles, you have yourself and another teammate, which can sometimes limit your abilities on the court. My teammates and I complemented each other really well, but I knew that I would be at my best playing alone."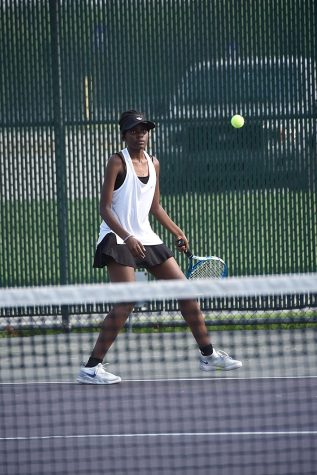 Moving to singles also comes with the pressure of having the team's possibility of winning or losing resting on their shoulders.
"I knew I would be seeing more competition, considering that we are in one of the most competitive, if not the most competitive athletic conferences," Hamilton said. "Stepping up my game would only help me achieve better results against these better players."
Turner said she tries not to focus too much on the pressure during a match. 
"I just try to tune myself out from feeling too jittery," said Turner. "If not, I would not play as well. But, when I'm practicing with my partner, I just try to remain calm and just know that I have the skills that I need and I just have to execute."
Along with pressure being part of changing designated matches, comes a change in play style. Turner believes that her playing style has drastically changed.
"I've been doing private lessons in the summer with my coach. I feel like from last year to now I've definitely changed a lot in my game," she said. "I can see a lot of improvements. There's still obviously a lot that I still need to work on, but I'm really happy with where I'm at."
Hamilton's playing style has also adapted to the change in matches.
"I would say that my serves are better," she said. "I am also able to place my shots better on the court, along with being able to execute them at a higher rate."