Girls soccer finds competitive edge
With the girls soccer regular season coming in on a close, it's time to look at the adjustments that have been made that show significant improvement from last season. This season has brought many new beginnings for the team, with the addition of new assistant coaches Josh Haynes and Amanda Churilla, as well as other changes that have been made to improve the team.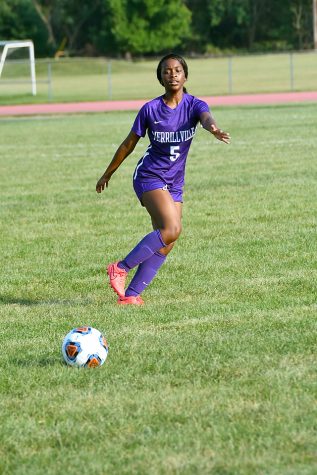 "It took a long time to adjust to the way they coach, they were a lot more focused on the team and then you can tell they have a passion for coaching too, so it was pretty different to see this style of coaching, and I honestly loved it because they actually help us a lot," Senior Captain Monica Valladeres said.  
 Junior Striker Autumn Williams is appreciative of the coaches' new approach 
"The coaches were very welcoming and understanding, and they put in a lot of time and effort for us, the freshmen were nice, and the team is like a family," Williams said.  
After suffering a nose injury last season that affected Valladares in the classroom as well as preventing her from getting on the field, she  worked very hard to get herself prepared for the season.
"After I got my nose broken It was honestly really hard for me to focus in school for me to learn and pay attention,"  Valladares said. "I  had to get nose surgery and after I recovered my season was already over. I had to do a lot of training and it was really sad to see my team play without me and missing all of the games." 
Assistant Coach Josh Haynes has been presented with the challenge of coaching varying skill levels throughout the season.  
"You get people that have played here at Merrillville for several years and they know the game and they are for sure varsity," Haynes said.  "And you have girls that admit that they have never touched a soccer ball before. That's a huge gap in knowledge, and you have to provide them both a practice that gets them better."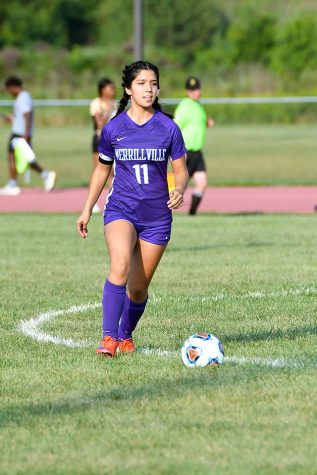 Not only has  Valladares taken on a new role of leading the team, but she has also been doing all she can to make everyone feel comfortable on the team.
"I'm proud to be the team captain for the varsity team because I feel like I can be an outlet for my team to look up to not only as a role model but also as a friend," Valladares said. "I want them to see me as somebody they feel comfortable talking to, asking questions to, and also just a really peaceful environment for them because I didn't have that as a freshman and a sophomore."
Like any coach, Haynes has winning at his best interests, but overall he's trying to prepare young athletes for future experiences. 
"We want to win games. I think every team wants to win games," he said. "What we try to focus on is let's get as many girls on the field playing soccer, and let's build them for the future, to compete in the future. We're making lots of steps building forward, but we still have some things that we can change." 
Valladares wants to leave her mark on the team by inspiring the next group of players. 
"I want to improve the team as best as I can, and also set up the upperclassmen and underclassmen for the next following years,"  she said.  "I want to show them what the responsibilities would be like,  just so that the next year the coaches have someone that they can rely on." 
Leave a Comment