Seniors' vision leads them to new business venture
Persona Visions, a Merrillville-based clothing brand, is founded by three of Merrillville's seniors, Jayden Lewis Wherry, Camden Morgan and Demetrious Wilburn. 
With some new inspiration, they've put a lot of their time into designing and editing shirts, as well as promoting their brand. Following inspiration from pieces like Gallery Dept, Senior Jayden Lewis Wherry has not only started his brand but also found others who share the same interests.  
"I wanted to start a clothing brand because I wear clothes online and I always felt like if I made something like that it would be even harder than all of them," Wherry said. "After that, I started to look up how to make it and I saw it wasn't that hard to do. And I started building a business mindset on it and I genuinely thought I could actually make this happen.

Whilst building his confidence, Wherry knew he'd need some help designing, producing and editing his shirts.
"Camden was the first person I saw that also had interest in it, so when we got into it and had our ideas we were going at a steady pace and we weren't ready to drop," Wherry said. "Then we found Demetrious and he really made it whole. He came in with a whole new mindset with creativity, and all of that. I think we have a good direction we're going in."
With multiple people running the brand, each person finds themselves with different responsibilities
"My role is more on the idea side, I give the ideas . . .  and they put me in the right direction and make it happen, so I feel like I'm more of the brains of it," Wherry said.
A brand as unique as Persona, creativity is constantly needed, Morgan decided he would be best for the role.
"My role is mostly on the creative end," Morgan said. "Sometimes I'll take the designs from paper to digital so we can actually put it on the shirt. If I have an idea I'll draw it myself or sometimes I'll take a different design and make it digital."
Having numerous unique ideas and creative designs, the group still needed somebody to produce the shirts. Having prior experience in shirt design, Wilburn immediately accepted the role.
"I'm really into rough sketching and I do a tad bit of the marketing. And currently I'm the main one that makes the shirts on the team," he said.
Morgan knew that Persona needed something that made them stand out, so he and the rest of the group thought of unique designs and characters.
"So right now we have our two main characters, their names are Sona Boy and Sona girl — just a boy and a girl character," he said. "I think it was Jayden who came up with the original design, but I always wanted them to represent black people. I wanted them to come from something black ya know, like the girl has a curly afro and the boy has dreads, so I just wanted to run with that."
Another need was marketing. Social media is currently more active and popular than ever, so marketing a brand has never been easier, and Persona's owners are quickly taking advantage of it.
"We have an Instagram where we post updates whenever we can. In the near future we're going to start promoting on TikTok. We also have a website in the works and it's almost done. I'm also in the process of reaching out to the staff to see if it's okay to come out around the school to put up posters around the school, and maybe getting a segment on the Friday Show to help promote our brand." Since most business owners start young, the sky's the limit for this group as they think Persona will eventually be an international business.
"My goal for the business is to take off globally and see where it goes from there," Wilburn said. "I want to take off online and then globally because this is really a million dollar dollar idea that all three of us have here. And we're all putting our hearts and soul into this idea. And I really think we can take off, so my plan is to go Persona worldwide."
While all three members may have different goals, one common theme is to get their brand more recognized, whether it's in our out of school.
"My goal for this year is to start seeing our shirts around the school and once we start seeing them around the school, that's when I know we're doing good," Wherry said. "I feel like once we really get started everybody is going to have our stuff on."I want everytime you see somebody in the hallway, you see a couple Persona shirts. I want to do at least five successful drops. Where we do five different things, drop them all and they sell out,  that's my goal for this year."
Clothing brands like Thrasher and Gallery Dept have inspired this group to not only make shirts, but eventually hoodies and sweatpants as well.
"When it comes down to the inspiration for my design, I really have a vision for clothes that I can see people wearing, or clothes that I see myself wearing," Wilburn said. "Because I wouldn't make anything I wouldn't present myself as. So all the designs come straight from the heart because If I wouldn't put the clothes on myself,  I wouldn't make them for other people to put them on."

Leave a Comment
About the Contributor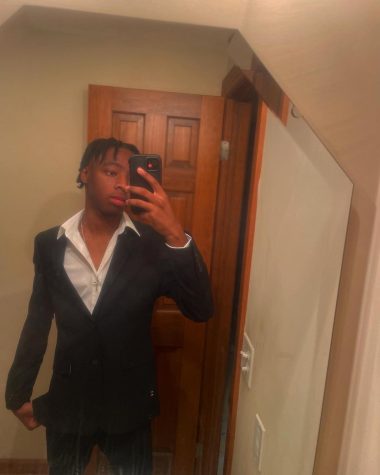 Myles Germany, Staff Writer
I like to box and I'm looking forward to starting to compete early next May. I'm going to college to study film and cinematography. After college I'm...