Roche picks next direction: University of Missouri
The football team is looking to stay consistent throughout the rest of the season as they enter the postseason with a 6-2 record. Along with consistency comes a chance to play at the next level. 
Philip Roche is a prime example of that, racking up more than 10 D1 offers. He plays at both the wide receiver and safety position. 
Roche started playing at the age of 5, and does not plan on stopping anytime soon. He received his first offer from University of Nebraska, last year during Christmas time. 
"It was definitely a great feeling," Roche said. 
Ever since Roche's first offer, he has managed to rack up 14 offers in less than a year. This week Roche announced he would be attending the University of Missouri.
One of his most memorable college visits was Cincinnati. They had him walk down a red carpet with all the coaches of the team, and had him go through a day in the life if he went there. 
Receiving multiple offers can be difficult, athletes will have to take into consideration whether or not a school is a great fit for them. 
"It can be difficult because a lot of schools can be the same, or they would have small things that can change the look of the school and definitely the distance from home to," Roche said. "I don't want to be too far from home, but definitely being too close wouldn't be easier either." 
Roche receives a lot of attention from both fans and college coaches. People can be quick to criticize after a bad game.
"We just tone out the negativity, it's always going to be somebody that has something negative to say." Roche said. "Just being with your brothers, and playing with each other for each other you're able to tune out all of that noise."
During the second week of football Roche went through a serious left shoulder injury. Although being injured Roche managed to work his way back up, and get back on the field the next week to play Crown Point. 
Even though he was only out a week, Roche struggled to sit on the sideline and watched his team play. 
"It was a different hunger, watching those games, knowing that my team was missing one of the leaders," he said. 
A leader can be described as someone who is vocal, and is able to bring together a group and push them into the right direction. But being a leader can be portrayed in a number of different ways. Head Coach Brad Seiss believes that Roche shows his leadership in a  more physical way. 
"Philip is a lead by example kind of guy, he doesn't say a whole lot," Coach Seiss said. "He's probably one of our smarter football players, we have him play a couple different positions on defense as a safety and offense as a receiver. So I would say his leadership style is a little more  lead by example than being a rah-rah guy."
Leave a Comment
About the Contributor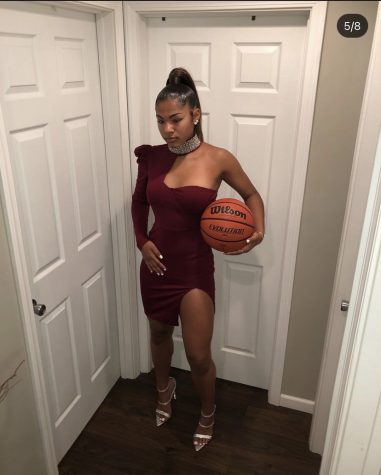 Mya-Lee Jackson, Staff Writer
Hi! My name is Mya-Lee Jaydah Jackson, and I am a Junior and this is my first year writing for the newspaper. In my free time I like to play basketball,...