QB Thomas steers the Pirates into postseason
Senior Jaylen Thomas is getting his time in the spotlight and he is making the most of it as he and the Pirates won the Sectional Championship 42-8 on Friday night against Hammond Central. It was the Pirates fourth consecutive Sectional championship.
"I feel good starting at QB," he said. "My team believes in me and I try to perform as best I can for them because I never want to let them down."
For the past two seasons, Thomas backed up Angel Nelson, who graduated last year. Thomas was getting significant playing time last season until he tore his ACL.
"I think the hardest thing about coming back was the rehab and just making sure my knee was 100 percent and ready to go," Thomas said.
He tries not to let the thoughts of his past injury impact him on the field.
"I don't worry about getting hurt too much," he said. "Because I never really got hurt like that before this injury so I don't think about it too much. I really try to focus on playing smart and not taking hits that I don't need."
Thomas passed for three touchdowns in the opening Sectional game against Munster, a 55-20 victory.
Coach Brad Seiss believes Thomas has rebounded well from the injury.
"The most negative impact of JT's injury was taking opportunities to gain experience his junior year," the coach said. "He rehabbed well and doesn't seem nervous to run around or take hits."
Expectations are high for the team, which advanced to the Semistate the last two years, and Seiss is confident in Thomas' abilities.
 "JT plays the most scrutinized position on the football team," Coach Seiss said.  "He's done a nice job of playing well enough that our offense can be a threat in both the running game and passing game.
"He's been able to make plays this season and more importantly I think he's gotten enough experience to play well without making mistakes."
However, Thomas is being careful not to look too far ahead.
"My only thoughts are taking it a game at a time and trying to make as long a run as possible," he said.
Thomas credits his teammates for helping ease the stress.
"There is a lot of pressure going into the job," he said, "but my teammates have a lot of faith in me to do the job so they settle my nerves a lot and I play hard for them." 
Leave a Comment
About the Contributor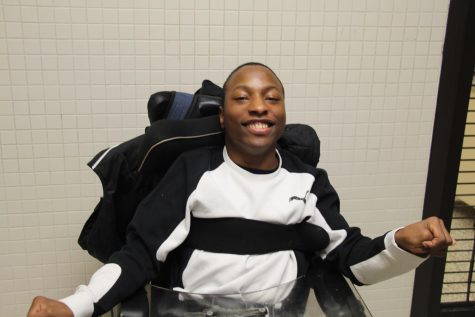 Omarion Thomas, Staff Writer
I am a senior this year. I also have five brothers. I write for the Mirror and film segments for PNN. The plan for my career is to become a sports commentator.