Senior Sandifer works overtime to make recovery a reality
It all started at a D1 camp. 
Senior Ryell Sandifer experienced the best game of her life, when suddenly she heard a pop. Falling down and getting up with tears in her eyes, she limped to the team bench.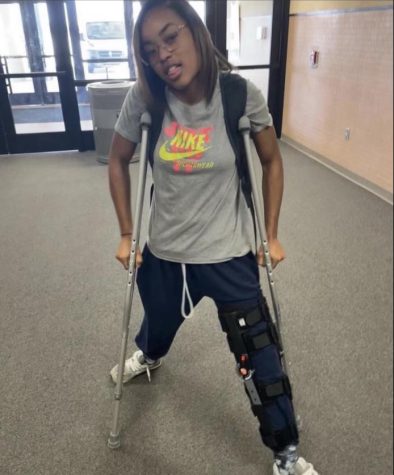 "I went down crying, repeatedly saying I don't want to be hurt, I don't want to be hurt," Sandifer said. 
Sandifer made it to the bench, following her coach's order of trying to walk it off. She noticed the swelling got really bad, and it started to hurt. 
Despite the loss of the game with Sandifer out, it was clear that she had something more important to deal with when she made it home. 
Sandifer's parents were just as shocked as she was. "I told my parents and they were like wow," she said. 
It was clear that both Sandifer and her parents were in shock. She was in denial, given the fact this was her senior year. 
A week later it would finally be time for Sandifer to find out what was wrong with her. 
"It was a week later and my knee was fine, although it was still swollen," Sandifer said. "I was playing on it still. I went to the doctor in August, they told me it was an ACL tear and I started crying." 
Sandifer believes she tore her ACL by doing a simple crossover. Her knee hyperextended back, and she heard the pop and went down. 
The injury occured on July 2, but because she was in denial, she didn't receive her surgery until Sept. 14. 
"When I found out I was really in disbelief because I didn't want it to be true at all," Sandfier said. "I was really stalling the process of getting surgery because I felt as though I could still play."
Nearly impossible, Sandifer hoped a doctor would give her the okay to still play.
"I was hoping they would just clear me and let me play. And then get surgery after the season, but they didn't." Sandfier said.
Undergoing a big surgery can be tough, especially for high school students. 
"I wasn't nervous going into surgery, but I was upset that I had to get the surgery," Sandifer said. 
Although she has an urgency to play, Sandifer wants to make sure she is completely healed before returning. 
"I am just trying to do it as fast, and efficiently as possible," she said. "I am not trying to rush the process, and still be completely healed."
This is not the outcome that Sandifer wanted for her senior year, but sitting out on the sideline allows her to witness nearly everything that goes on. And is able to keep her spirits up high, despite not being on the court. 
"Ryell has had a very optimistic and positive attitude through her recovery," said Head Coach Kelly Kratz. "Sometimes setbacks can shake a kid's spirit, but Ryell has taken this as a new opportunity."
While on the bench, Sandifer is able to witness the ups and downs of the team. 
"I see everything," she said. "I see how the team comes together, I see even when the team can fall apart sometimes. I see things they can work on, and things they are doing well." 
Sandifer believes the hardest part of the process is knowing she could have had her surgery earlier if she wasn't in denial. Allowing her too have been back on the court months earlier. 
Her recovery is set to last for six months, but her doctor and the athletic trainers here at MHS are pushing for her to be back in January
The senior hopes to return and make her varsity debut on Senior Night Jan. 14.
"I have been working fast in these three months but I still believe that I will be able to come back in the next month or so, which is January," Sandifer said. "Also, the athletic trainers said they would help me work to get to that point."
Leave a Comment
About the Contributor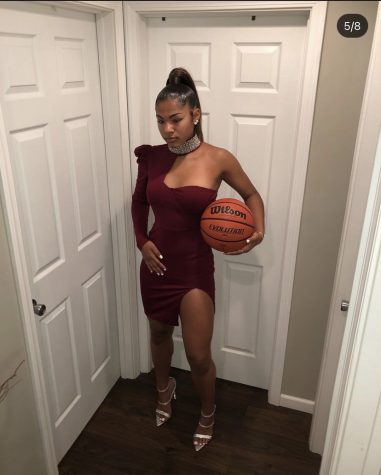 Mya-Lee Jackson, Staff Writer
Hi! My name is Mya-Lee Jaydah Jackson, and I am a Junior and this is my first year writing for the newspaper. In my free time I like to play basketball,...