Freshman making immediate impact on the court
It's never easy for a freshman to adapt to a varsity competition, but Bryce Peters, a 6-foot  freshman guard has lately proven his ability to compete with the "big dawgs."
Peters started playing basketball when he was in the second grade. He described it as, "basketball just came to me." 
He's been faced with many adjustments. 
Coming in as a freshman Peters knew he just had to be a "dawg," but there is some regret in preparation for his first season playing varsity. 
"I didn't prepare for it as much as I wanted to, but I feel that that was because I was a bit nervous," Peters said. 
Being nervous is normal, especially when you know there are high standards to hold up too. 
But with help from a mentor, teammates can take a lot of pressure off your shoulders. Peters shouts out Jaeden Williams, a junior, for taking him under his wing, and helping him get through the challenges he faces as a freshman. 
"As soon as Bryce came in I gave him a hard time on purpose to make sure he's ready for the varsity level physically and mentally," Williams said. "I also will give him pointers and talk to him in and out of the gym, bringing him closer almost like a little brother." 
The freshmen has been faced with many adjustments. 
Varsity playing time is challenging to earn for incoming freshmen. They would have to prove themselves on all ends of the court. Coach Patton, the Merrillville boys basketball coach, believes Peters is adapting pretty well, and already has done so. 
"Bryce brings poise especially as a freshman, he is not easily rattled," Patton said. "He also plays any role that we need him to, naturally he's a point guard but we have him playing off the ball. He brings good shooting, ball handling and is also a very good playmaker and defender."
Coach Patton, as well as Peters have set long term and short term goals for the freshmen guard. 
"We just told him to get better every day, coming in as a freshman with no lofty goals, he has already proven he can play at this level, so my goal for him is just to be better everyday," Patton said.
On the other hand, Peters is already looking forward to senior year. 
"I want to break the 1k points record my senior year," Peters said. 
Leave a Comment
About the Contributor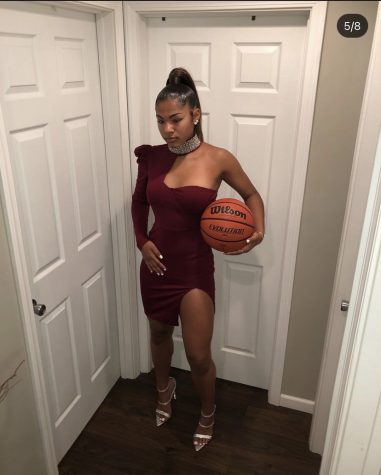 Mya-Lee Jackson, Staff Writer
Hi! My name is Mya-Lee Jaydah Jackson, and I am a Junior and this is my first year writing for the newspaper. In my free time I like to play basketball,...