MHS robotics team programmed for success
There are many different aspects of robotics such as building the robot, programming it, and understanding the mobility of the robot. Members of the robotics team get to explore all of those different aspects.
Mr. Joseph Hussey is coach of the robotics program here at Merrillville High School. He is in his first year sponsoring the club and has been impressed with the performance of the team, which goes by the name #11992 Radioactivity.
"Robotics is one of the more proactive clubs here at the school and has continued to grow throughout the years," he said. "There are about 6-8 students that consistently come to practices and meets that are really active within the program."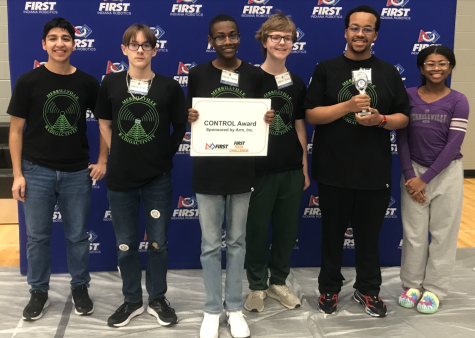 The team has base robot that they add on to fit the criteria for different competitions.  The robots have various tasks to complete, and team members must program the robot to complete the task. They compete against other schools to see who can navigate the field the best.
 "We have been pretty good this year and we have been one of the top teams through all of our competitions," Senior Robert Barnes said. "As a captain, I have been very impressed and we have been one of the best teams." 
Barnes said he and Junior Floyd Archie work on the programming, and Floyd is also the main driver. 
 "We are here every Saturday from 9 a.m. to 12 p.m. proactively working on the robot. My interest in robotics here is honestly driving the robot," Archie said.
The next meet will feature something unique.
  "During the next meet, we are planning to have an autonomous routine where [the robot] grabs a cone," Archie said. "Autonomous is where the robot does its own thing for 30 seconds. It reads a certain color and goes where it is supposed to go for an extra 20 points."
For Barnes, who is planning on attending Purdue University to study computer science, robotics is a perfect fit.
"What I enjoy most about it is the fun in building the robot. We get to talk and communicate all of the time and finding out how to program things is fun as well," Barnes said.
 "I would recommend this club for people who are trying to get more into computer science and engineering because of the work you do along with people who are just like you. It certainly helped me as I know a lot more about programming than I did before."
The team recently competed in a FIRST Indiana Robotics tournament at the new Hammond Central High School. They placed among the top robots to compete in the playoff tournament for the possibility of going to the state competition. Unfortunately they fell a bit short, but did win a Control Award for programming and functionality. 
In addition to Barnes and Arichie, team members include Ruben Maritnez, William Verreault-Martin, JaMaelyn Sanders and Jackson Moreland.
Leave a Comment