Students spice up their skills in the kitchen
Two students in Ms. Patti Tubbs' culinary class have different styles of cooking, but both plan to have cooking be a part of their future. 
Sophomore Lenard Camphor was inspired by his mother and grandmother.
"My passion came about  because i just grew up watching my  mom cook and me and my grandma watching tv shows," he said. "Once she was making something for my birthday, and [it] was so good. The flavors were immaculate." 
Camphor's culinary journey began at a young age.
"One of the most memorable moments was when I was in the kitchen and my mom let me finish the meal and add my own flavor," he said.
He made his first dish when he was 6 or 7 years old.
"It was Mexican Hamburger Helper, made with picadillo and baked mac and cheese," he recalled.
Camphor, who works at Qdoba, specializes in grilling and sauteing. "I'm good with open flame and flavoring."
His favorite ingredients are potatoes and eggs. One of his signature dishes is a breakfast hash, a combination of eggs, potatoes and kielbasa.
Taking culinary classes at MHS has helped hone Camphor's skills.
"It made  them more precise like my cutting skills got better and my baking," he said. "Plus, i can put them on full display."
Keeping an eye on food trends, Camphor enjoys trying what he sees on TikTok.
"The  most recent one was this  breakfast hash, and I just liked the way they made the potatoes," he said.
Camphor enjoys watching Sam the Cooking Guy, a Youtuber who makes a lot of different items.
"He is just a good cook that I respect because he does a lot of charity, and has his own restaurant," he said.
His plans include culinary school, along with pursuing a football career.
"It may even be a side path way but I do want to pursue culinary," he said. "I don't know what school I want to attend but that is the plan.
"I love cooking and i would like my own restaurant even if i do make it to the league."
Armani Jones' mom also ignited her love for cooking.
"Ever since I was little, we have been cooking," the sophomore said. "I have had a passion for cooking since I was really young."
That's why she knew she wanted to be a chef since she was about 8 years old.
"My greatest challenge will probably be when I first started cooking," Jones recalled, "because my mom wanted me to help her with Thanksgiving and she wanted me to do some dishes on my own."
Jones wants to specialize in Italian cooking, mostly pasta.
"My signature dish is chicken alfredo," she said. "Everybody in my house likes it."
Although she loves Italian food, there is one dish that isn't her favorite to cook — lasagna.
"It has a lot of steps and you have to do a lot with it," she said.
Jones plans on going to culinary school. She's not concerned about any challenges ahead.
"I like challenges." she said. "I like seeing what I could do and what I can't do."
Jones' ultimate goal is owning a restaurant. She is taking culinary classes at MHS to help pave the way.
"It's teaching me all about the utensils and how to use them," she said. "And a little bit about business of how like the pricings of the ingredients, and I'm getting to try cooking with new ingredients I normally wouldn't."
Leave a Comment
About the Contributor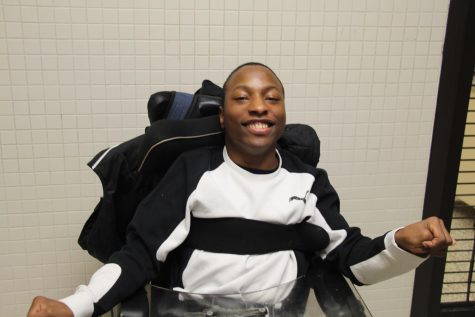 Omarion Thomas, Staff Writer
I am a senior this year. I also have five brothers. I write for the Mirror and film segments for PNN. The plan for my career is to become a sports commentator.