Boys volleyball team makes history at MHS
With the new addition of boy's Volleyball to Merrillville High School, they look to make a splash early. With boys volleyball being one of two new sports at MHS, it instantly gained interest from many students. 
Senior Aleksandar Djukic has played a little bit of volleyball, but never competitively.
"Growing up I usually only played volleyball at graduation parties, at friends' houses, or at the beach but nothing competitively," Djukic said. 
Senior Jordan Jones didn't have any experience playing volleyball but still wanted to give it a shot.
"I heard about it being a sport during the fall and it really interested me. Then, some of my friends started talking about it too so I knew I definitely wanted to play," Jones said.
Boys volleyball is an "emerging" sport in Indiana this year, meaning there is no state tournament for the time being.
Djukic doesn't just want to be known for being on the first volleyball team at Merrillville.
"Honestly I look at it as the same as soccer and cheer, it's just a team," he said. "People keep congratulating us, but we're just getting started and have work to do." 
Jones is excited about leaving a mark beyond volleyball.
"It feels really exciting knowing that me and my teammates are making history within Merrillville," he said.
With a lot of the players being on their first team, it may take time for them to really be ready.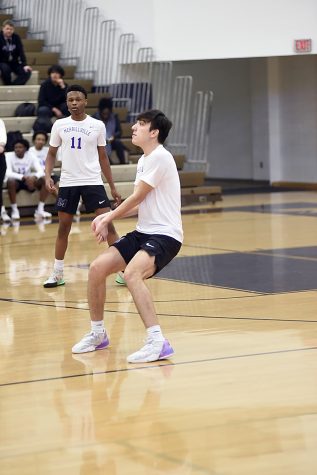 "To mentally prepare for the competition and atmosphere it's going to take a couple games because it's all mind games," Djukic said, "but once we get a couple more games under our belt we'll be looking like the dangerous team I know we can be."
As the team becomes closer, Jones believes it will help the performance on the court
"Team bonding is the most important part of volleyball so when we team bond we usually do fun team challenges during practice. Even out of practice we hang out such as going out to eat," he said.
Djukic is now a three-sport athlete alongside soccer and cheer, he admits there are differences in the preparation for sports.
"The transition from soccer to volleyball is very different, in soccer your main focus is your legs while in volleyball it's all about your hands," he said. "You can't really use your legs for volleyball. Also, it's a little more fast-paced, [you've] always got to be two steps ahead."
In the fall, Jones played tennis, but he said the transition wasn't difficult.
"Transitioning from tennis to volleyball wasn't really affecting the way I play besides serving because I was so used to my tennis serve so I had to break that habit for this sport," he said.
Djukic admits that the team chemistry could use some improvement.
"It's been a challenge, there's different personalities and attitudes, so we're slowly coming together, give us a couple more games and we'll be nice and gelled together and be a team," Djukic said.
With a lot of players new to volleyball, the team had to work hard during the off-season.
"During December, we all started conditioning as soon as possible and making sure we got the fundamentals down before the beginning of the season," Jones said.
However, there are still some challenges.
"The biggest challenge is communication," Jones said. "Communication is the key to volleyball and without it the team would just be all over the place."
Despite this being the first year for boys volleyball, Djukic has high expectations for the team.
"I just want to have a winning record and overall improve as an individual and a team, and not just look back and say 'that's the first men's volleyball team,' but I want people to remember us for winning," he said.
Jordan has goals for himself and the team.
"My personal goal for the season is having the most kills and aces on the team," he said.
"As a team I just want us to have fun and build a close bond with each other to help us for our upcoming games," Jones said.
Djukic has advice for younger players considering trying volleyball.
"Just go and play, you're only here for four years," he said. "You have to be coachable, not just by coaches but by teammates too, put in the time and effort. If there's a problem find a solution, you can't be closed minded or be negative."
Jones believes communication is important for those who want to try volleyball.
"My advice would be to always be a team player and talk loud on the court," Jones said. "Don't be scared to talk to your teammates about things and to not let one mess up alter the way you play the whole game." 
Leave a Comment
About the Contributor
Robert Richardson, Staff Writer
 I'm a senior and a writer for the MHS Newspaper! I play baseball and plan on continuing my athletic career at the collegiate level. I also plan on...