Lana Del Rey's latest offering was worth the wait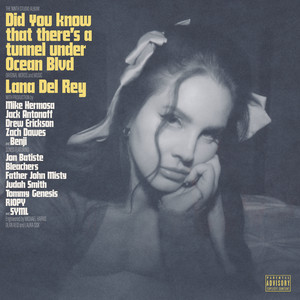 Lana Del Rey finally recently released her long-awaited ninth studio album, Did you know that there's a tunnel under Ocean Blvd, with collaborations from Tommy Genesis, Father John Misty, Bleachers, and Jon Batiste. 
With being in the limelight for over a decade, you would think that Lana would run out of words to say and melodies to sing—but upon giving this record a listen, that rumor shuts itself down quickly. Lana has always been known for her sullen lyrics and melancholic tone, but on this record, Lana has a much more deep, vulnerable penmanship than she's ever had on any of the record's predecessors. 
The record opens up with the song, The Grants (Del Rey's real last name). The song is a piano ballad with an almost gospel feel, which reminisces over family members she has loved and lost: "My pastor told me, 'When you leave, all you take is your memories.' I'm gonna take mine of you with me." From the heart-touching lyrics to the emotion in Lana's voice, you cannot help but shed a few tears upon listening to this track. Upon its ending, it fades into the title track, Did you know that there's a tunnel under Ocean Blvd, which instantly became a standout track in her discography. In the song, Del Rey vulnerably begs not to be forgotten while expressing unwanted loneliness. Unsurprisingly, her fans coined this as an instant classic in her discography, as it includes all of the elements needed to be considered a textbook track from Lana Del Rey. The second single, A&W, is one of her longest songs at a little over seven minutes. The two-part song starts with a few verses of acoustic guitar, and soon the beat picks up, as it becomes more trap and pop like. This song blew up on TikTok immediately upon its release.
The best thing about this record is the challenge of vulnerability Lana has taken on for this album. The majority of the record is slower, fervent ballads, so it is understandably an acquired taste. As stated before, Del Rey has always had the word 'melancholic' used to describe her sound, yet her lyrics have always been more on the vague side. Contrariwise, the song Fingertips is undoubtedly her most personal song that she has written up to date, so much that it feels almost too personal to listen to. The lyrics serve as her own autobiography set to music, discussing heavy topics in her life such as dealing with fame, the recent passings of her loved ones, a strained relationship with her mother, and how that and more has taken a heavy toll on her. Even so, she still documents her healing process in the song Kintsugi, comparing her life to the Japanese style of pottery that puts broken pieces back together with gold. "But I've had to let it break a little more, 'cause they say that's what it's for. That's how the light shines in." 
Even though the record includes many heartbreaking ballads, there is still light at the end of the tunnel. The last three songs, Fishtail, Peppers, and Taco Truck x VB, are all much more upbeat than the other songs, proving Lana's versatility and the fact that there is undoubtedly a song for everybody on this project. By and large, Did you know that there's a tunnel under Ocean Blvd is an instant classic in Del Rey's discography due to its deep vulnerability and broad versatility. 
Leave a Comment