Science teacher's second job keeps things rocking
Science teacher Mr. Robert Heckler also has a rocking life as he performs as part of a successful local rock band.
"I've been in bands since I was in my 20s here and there," he said.
Although he also plays solo shows, Mr. Heckler joined his current band, Small Town, when he heard they needed a keyboardist and an accordion player
"We are what is called a tribute band," he said. "We play music that is written by John Mellencamp who's actually doing his [latest] tour right now."
Mellencamp, who comes from the Bloomington, Ind., area has been a star since the 1980s.
Although he can play a number of instruments, Mr. Heckler has a definite favorite.
"My favorite instrument and the instrument i'm most comfortable with is the piano," he said, "because I've been playing it the longest and it's an instrument where I can do a solo show with it or play with a band or if it's a song I really don't know too well, I can wing it with the piano just to get through."
Mr.Heckler's love for music developed at a very young age. 
"I grew up listening to a band called Styx that was my favorite band that was a band I listened to a lot," he said. "The keyboard player Dennis Deyoung was my favorite."
His other musical influences included Ray Charles, especially when he was on the piano, and Scott Joplin, who made ragtime famous..
His favorite moment as a musician came when he was performing solo at a spot near Wrigley Field in Chicago.
"I would play after each Cubs game to fans that would walk into this place," he said, "and my favorite time was playing during the World Series when the Cubs won it all back in 2016.  It was great to be at ground zero performing for a historical moment to an amazing audience of thousands." 
For now, he is enjoying his success with Small Town, which has headlined shows around the state.
Last summer his band has had the chance to play at the Indiana State Fair.
"That was like a really big stage so that was pretty cool," he said. 
"I'm never gonna be a famous musician. I'm too old, I just do it for fun."
Leave a Comment
About the Contributor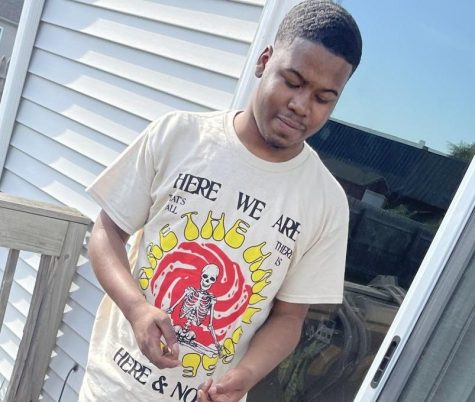 Ja'Mare Mitchell
I'm Ja'Mare Mitchell. I'm a senior. This is my first year writing for the newspaper. I'm hoping to write about anything and everything I've grown...