Students enjoy finding bargains in vintage stores
Senior Precious Moore found a love for thrifting in 7th grade when she visited a thrift store with her grandmother.
According to recent studies, resale shops have grown 7% a year for the past two years, with over 25,000 stores in the US. Approximately 16-18% of Americans shop at thrift stores and 12-15% shop at consignment or resale shops annually.
"I started thrifting when I was in 7th grade I think because I couldn't find anything I really liked in the regular stores. I always had a [vintage] style like my grandma," Moore said. 
But sometimes thrifting made her feel like an outcast as a child. 
"When I was younger, I liked doing it with her but I also felt different," she said. "It made me feel a little bad about myself but I still did it because I really liked to do it." 
Now that she's older, she's grown confidence in doing what it is that she likes. 
"Now I embrace it. That's what I like to do," she said. "It's cheaper and I get what I like." 
Gabrielle Swanson is also another senior who enjoys thrifting. 
"It's a unique way to find signature pieces for yourself," she said. 
She enjoys having choices from certain eras. 
"You're able to find things that are not in season or from prior years that you'll probably never find again," she said.
Gabrielle also enjoys clothes from the 2000s.
"There's a lot of stuff from the 2000s I'd never thought I would like but I really do," she said. 
She has a word of advice for her peers who thrift and her peers who considers thrifting. 
"Be mindful that other people who do go to the thrift store that actually needs it," she said.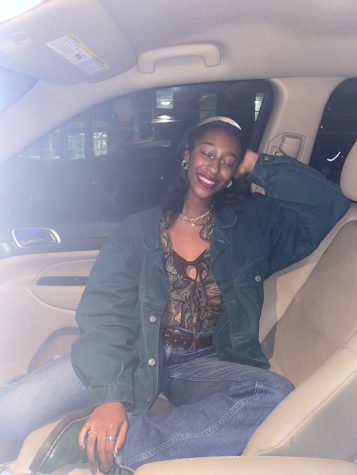 Senior Tyler Mitchell also started thrift shopping at a young age like Precious Moore, and expresses how he can thrift independently now. 
"I started thrifting because I saw it on the internet maybe early 2019 and I thought it was cool. I actually used to do it with my aunt when I was younger, but I could never buy the stuff myself, so I couldn't really choose what I was getting," he said. "I got my own job, so I can buy my own clothes."
He likes the fact that with thrifting you can throw a lot of things together to make your own style.
"I can pair with what I want," he said. "I can pair it with old stuff, new stuff." 
He learned that showing up early pays off.
"You have to get there really early! You can get all the nice stuff," he said. 
The students point to fellow Senior Lucas Zakutansky as someone who has found the most vintage clothing while out thrifting.
"I actually work at Plato's Closet which is like this vintage resale store,"  he said. "I also go to the bins in Gary. There's a couple of antique malls in Hammond that I go to." 
Zakuntansky gravitates towards vintage clothes because it stands out.
"It's kind of like anything like if your collecting shoes or if your collecting baseball cards, it's just something that you enjoy," he said. That's about it it's just nice, it's cool." 
Zakuntasky found his favorite piece from thrifting recently. 
"I found this vintage 1999 Pokemon Mewtwo tee and they resale for like up to $300, and I got it for $8."
Leave a Comment