Performing arts department tackles online learning
Back in March, if you were to walk into one of the performing arts classes you would see students  working on group skits, running through choreography with dance partners, and playing in ensembles. Now, things look much different. With everyone learning from home, the performing arts department has had to find and adapt to new ways of rehearsing to try to keep classes running smoothly and effectively.
Like many teachers, Orchestra Director Mrs. Rosenthal wants to keep her classroom routine as much like normal as possible. She wants to ensure, even though students are not in the building, that they are still learning the same things they would be in person.
"Orchestra is an elective and for many of my students, it is a safe haven, a brain break from other types of classes, a stress-reliever, and a family atmosphere," Rosenthal said. "I want virtual learning to fill those same roles for them.  We have a Google Meet in every class every day.  We do stretches and warm-ups, share good news and jokes, and work on technique, music theory and concert music."
Even though school has been back in session for nearly a month, the performing arts teachers are still struggling to find ways around problems with technology.
"With internet lag, it is IMPOSSIBLE to really sing or play music together online," Mrs. Reinhart, Head of the Performing Arts Department and Choral Director, said. "We can try, but definitely have had to develop alternate opportunities for students to learn their music in a virtual format for every voice part of every piece of music we are working on.  If they apply themselves, they CAN learn the repertoire online, but in terms of developing proper vocal techniques and blending the 30+ individual voices into an ensemble, it cannot be done until we are in-person."
With social-distancing and safety precautions in place, blended learning is due to begin for performing arts along with other AP and hands-on classes Tuesday, September 15th. 
"They (students) will be coming in once or twice a week, depending on how many students choose to come to campus," Theatre teacher Mr. Mackey said. "Normally, I like to group students together to work on various projects (theatre is teamwork, afterall!) but they'll be more spaced out.  Also, because masks obscure the face while acting, we'll try to utilize clear face shields and heavily emphasize the use of physical acting using body language."
Blended learning for the performing arts department is provided for students who have chosen the Civic Arts Pathway as well as any student who wishes to attend in-person classes.
"Many of our students are beginning to pursue the new Civic Arts Pathway graduation requirement and in-person rehearsals will help accelerate their (musical or theatrical) development," Reinhart said.
Despite the challenges this year has presented, Reinhart encourages students and staff to stay hopeful and optimistic.
"This pandemic will eventually go away," Reinhart said. "We are resilient and will be stronger from perseverance.  We will be wiser from the lessons that this experience has taught. We will be more cautious about taking for granted the parts of our daily lives that we once thought were insignificant.  We will learn to appreciate and treasure singing that one part of the song just one more time. We are Pirate Strong."
About the Contributor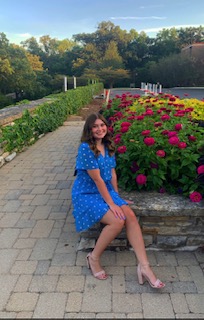 Lauren Molenda, Editor
My name is Lauren Molenda and I'm a Junior here at Merrillville High School. I'm also the Vice President of Merrillville's Thespian Troupe #1692 and...