Boys happy to be back on the field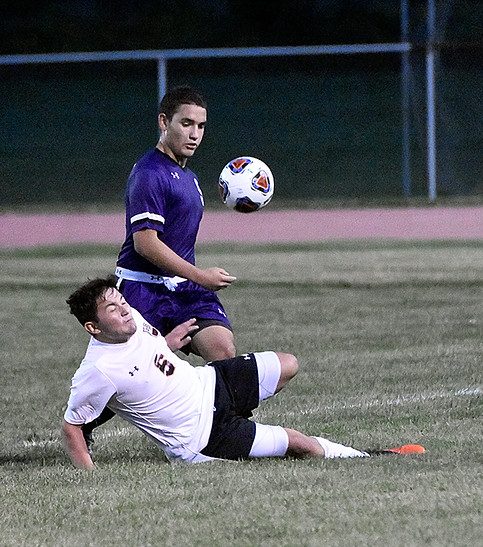 As the clock on the Portage game came to an end, the Merrillville boys soccer team was rolling with a sense of momentum following their 2-0 win over the Portage Indians. But as soon as the momentum was gained, it was crushed by the news that a player had tested for COVID-19, which has put the team on a 14-day quarantine. 
Malik Hall, one of the varsity captains, continued to keep his team focused and ready as the team returned from the quarantine.
 "I expect us to surprise a lot of people since everyone knows we lost a lot of seniors from last year, but I have hope that we can make it far this year as well just from our work ethic. I try to push my teammates everyday and make sure everyone's getting better because you're only as strong as your weakest link," Hall said.
The season resumed last week with a tough loss to Valparaiso, but the boys rebounded to win the Battle of Broadway against Andrean 5-1.
Senior Varsity Starter Aleksander Pejovski has stepped up and has become one of the leaders for the squad.
 "We've been practicing all day every day, even if we're not at practice we text each other which field we are going to and we show up and put in work even after practice we go to the fields," Pejovski said. "And we are planning to keep the momentum high from the first game and just continue to keep getting better doesn't matter about the wins or losses. I just want to see everybody around me get better and succeed."
As the players found out about having to go on quarantine, Juan Garcia and the rest of the team looked to remain focused until their inevitable return.
"We all had a positive mindset towards it and just looked to come out even stronger when the 2 weeks was up," Garcia Said.
As the season resumes, Head Coach Brian Past has gotten his team ready to continue the momentum gained from the Portage game.
 "Our players know we are fortunate enough to be able to continue our season. Based on what happened to the spring athletes, and the cancellation of their sports seasons, we are going to embrace each game opportunity we have, with focus and determination for a positive result of improvement and hopefully victory. We still feel we can have a great season and therefore send our seniors off in style," Past Said.