COVID can't stop MHS from fulfilling holiday wishes
This past holiday season, the Student Government sponsored its annual Holiday Wishlist Program, giving back to nearly 200 students and families in the Merrillville community.
Families interested in participating in the project sign up through their student's school social worker, where they create a list of things they want or need. These participants remain anonymous, and are given numbers they are identified with. The list of numbers is then sent out to staff and club sponsors throughout the school corporation, and if they wish to do so, they can "adopt" a family and supply them with the gifts on their wishlist.
Ms. Cheryl Austin, co-sponsor of Student Government, has been helping organize this project for three years.
"MCSC is like a family," Ms. Austin said. "We take care of each other. All recipients are MCSC families, so it feels good to serve 'our family'. For MHS Student Government members, it is a highlight of our community service projects completed during the school year. Giving high school students opportunities to serve their community will leave a positive impact on them as they grow into future leadership roles. At least that is our hope! We want them to learn that serving others will bring joy into their hearts and lives."
This year's collection and distribution process has was altered to meet COVID-19 safety guidelines. Student Government members contributed from a distance, donating to the cause and even arranging for Santa to visit the elementary schools virtually.
"MCSC amazes me," sixth year Student Government Co-Sponsor Sheryl Loving said. "Administration is caring of the students and staff that has contributed to the generosity that is shown toward this program each year. It makes my heart happy to know that sponsor contributions allowed students in need to receive gifts during the holiday season."
The program proved, once again, to be a great success.
"It is so rewarding to think about those kids who got to open more gifts than their families could afford to buy on Christmas morning," Ms. Austin said. "Knowing that together, we were able to make 124 students and 44 families so happy makes all of the effort worthwhile."
About the Writer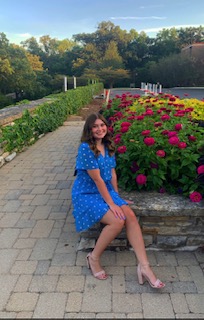 Lauren Molenda, Editor
My name is Lauren Molenda and I'm a Junior here at Merrillville High School. I'm also the Vice President of Merrillville's Thespian Troupe #1692 and...