A journey through memory lane for the MHS orchestra
Ms. Diane Rosenthal, the director of Merrillville High School's orchestra, has been teaching here for what seems to be a million years. This year is Ms. Rosenthal's final year of teaching. She will be retiring and moving to California. She has made an impact on almost every orchestra student's life in some way. Let's see what some students have to say about this, as well as their experiences with her.
Kayla Danaher, senior, says, "Before I got to meet Ms. Rosenthal, I was intimidated at first, but she became one of my favorite teachers I have had. She always helps her students and always does her work well.
My fondest memory would be of her always getting excited when we did a piece of music well.
When she announced she was retiring, I was happy and sad at the same time. Sad to see that she is leaving the orchestra, but happy to see she is moving on with her own life and being happy herself.
Ms. Rosenthal has always been an amazing teacher, she clearly cares about us, she actually shows that she is dedicated to her work. I enjoyed every second of having her as a teacher and I wouldn't change any of it. She made my time in the orchestra a great one."
Michelle Adame, junior, says, "My first impression of Ms. Rosenthal before I had her as a teacher was that she was one of those strict teachers that won't let you leave your seat to go get a tissue or to throw something away, but when I got to know her over time, she was the sweetest and most caring teacher ever. Her energy was positive and I felt comfortable about telling her anything because she just brings good energy and lights up any room she walks into.
My favorite thing about Ms. Rosenthal is that she refers to us as her own kids, that she cares about us because we're all considered her kids, and she has that love for us that will never go away. She's also very caring because she'll comfort you if you're feeling down or if something is happening to you and you want to open up to someone and talk to them.
My fondest memory in orchestra with Ms. Rosenthal was when we would go to ISSMA (Indiana State School Music Association) and play in front of judges, then get the results back, and also get the Gold Plaque from the judges because we would always do our best. Even if we mess up, we still do great, and all that matters is that we play like a big happy family.
When she announced that she was retiring I was sad because I knew that she wouldn't be here for the class of 2022 and see us walk across that stage, but I'm also happy for her because it's time for her to move on and to do other things because she would always stay late and work on stuff like for the concert, ISSMA, the homecoming parade float, etc., but she needs a break because she's been working for so many years.
I feel happy for Ms. Rosenthal because she's living my dream by moving to California, and I have family there so I'm excited for what the future has for her and I hope that she's happy with the decision that she made and I hope that she loves it out there. I enjoyed my time spent in her class because I met a lot of people while being in orchestra and those people are like family to me. I can't wait to see what the future holds for us and for the program moving forward, and I hope that she has a great time in California! I'll miss her deeply."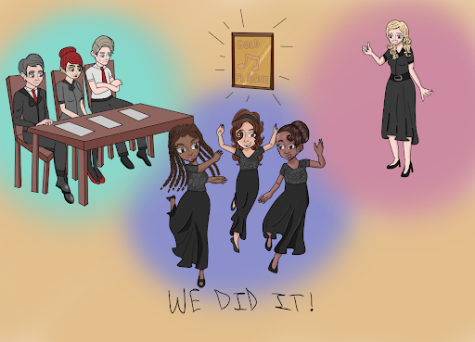 Sonnet Smith, senior, says, "I first saw Ms. Rosenthal at a family friend's orchestra concert who attended Pierce Middle School, and she was talking trying to make a student feel better. When I first saw her, I thought she was nice, and she was!
My favorite thing about Ms. Rosenthal is that she cares about your life outside of school due to a lot of teachers not caring.
My fondest memory of orchestra was having fun and shopping at the ISSMA state trip.
I felt very sad due to the thought of some classes not getting to feel Ms. Rosenthal's loving support.
I love Ms. Rosenthal and her classes were always interesting."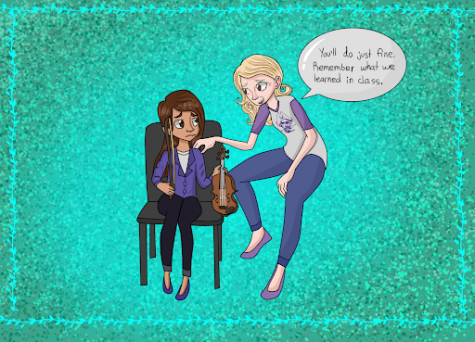 Lauren Turner, junior, says, "My first impressions of Ms. Rosenthal were actually that she's very strict and, and seems like she doesn't fool around. She used to come to our after-school rehearsals when I was in 8th grade, and she would always tell us to quiet down.
My favorite thing about Ms. Rosenthal was how much she cared about us, and she showed it every day. I learned so much about Black history and just about life in her class than any other class. She has taught me many things that I will keep with me forever.
My fondest memory in orchestra with her was before we were about to play at concerts and we were on the stage, and she would always reassure us and calm us down before we started.
When she announced that she would be retiring, I was devastated and very sad, she was my favorite teacher and I wanted to finish off my senior year with her, I'm sure all of us did.
I feel that Ms. Rosenthal is by far one of the best teachers at Merrillville, she cares about each and every one of her students like they're her own and always encourages us to do our very best in orchestra and also in life. She is truly an amazing woman and I'm so glad that I've met her. Her class was the one I looked forward to the most and I will dearly miss it. Thank you for all the fun times!"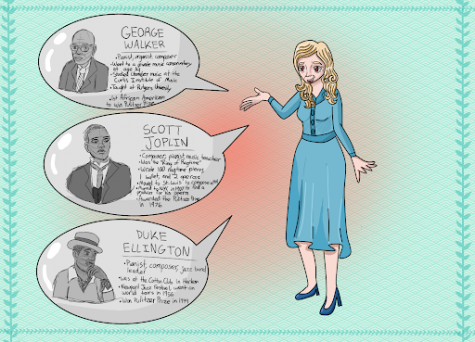 Trinity Allen, sophomore, says, "So I got an early impression of Ms. Rosenthal when it was the summer orchestra camp, and I thought she was really nice and experienced.
My favorite thing about her is that she really cares for her students and understands we have other lives outside of orchestra. Whether that is athletics or a job, she makes sure we still get the best education in orchestra.
My fondest memory was when she gave me encouragement before my ISSMA solo.
When I first heard she was retiring I was in disbelief and I was kind of sad, but when she shared her story of why, I just couldn't be more happy for her.
Overall, I feel that Ms. Rosenthal was one of my best and favorite teachers."
Azariah Crosby, Junior, says, "My first impression of Ms. Rosenthal was, "Why does this lady keep yelling at us through the microphone?" At this time we were in 6th grade and believed we knew everything and were being obnoxious. Upon entering high school and being in her class for 9th grade, she is by far the most humble and hard working teacher for her students that I know.
My favorite thing about Ms. Rosenthal is that she always tries to put her students' needs before her own and often listens to us as a whole since we are a minority people-of-color orchestra.
I am not able to pick only one memory of Ms. Rosenthal, from orchestra movie nights and concerts, to homecoming floats and going to Indy for State performances.
My reaction when she announced she was retiring was a little selfish, initially. I automatically thought, "How are we going to continue being the great program we are without her?", but after talking to others I realized that she too deserves to have a life outside of the orchestra program, and that no matter what, we will all be her children forever.
Overall, Ms. Rosenthal has been a very influential and motivational teacher, she is one of the few teachers that understands and listens to her students and their needs. I enjoyed every minute in her class and would have it no other way. Throughout the 400+ students she has taught in her program, each one could attest to the kind heart she possesses and how much we all care and love her."
I myself am a sophomore, and I remember when I was a freshman coming in for the first week of high school, I initially thought Ms. Rosenthal was going to be mean. Before I met her, I was scared because I had a preconceived notion that she was a grumpy old lady, but she's actually the sweetest, most kind-hearted person I've ever met.
Her involvement in teaching the class was crucial to our progression and development as musicians. Not a single day did we lose our ambition. We always strived to do better because that's the motive she embedded in us.
Over the course of time, Ms. Rosenthal and the class felt comfortable sharing our ups and downs, random things that happened throughout the day, and basically anything. She has an exceptional sense of humor. I will never forget students' giggles spreading across the room. She had such a strong influence on not only our musical lives, but our personal lives as well, and I'm appreciative of that.
When Ms. Rosenthal announced to the class that she would be retiring, I was shocked and felt a bit disappointed. However, I like to think of it this way: When you like a flower, you pluck it, but when you love a flower, you water it and help it grow. It's the same thing with people. If you like a group of people, you'll spend time with them almost every day. But if you love a group of people, you want the best for them and will let others lead them after you've made your impact on them.
Even though I'll miss Ms. Rosenthal, I'm happy that she spent time with us, helped us learn and grow, and is now giving us a chance to have a new experience. I'm also happy that now she's finally taking a break after all of her hard work. I know she wants the best for us and for our future.