Season 2 of Euphoria airing on HBO Max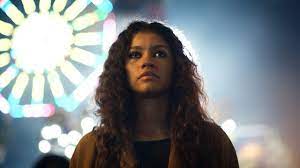 Season 2 of Euphoria debuted Sunday and don't worry if you've never seen it; it's not too late to catch up. 
Euphoria starring Emmy award winning actress Zendaya is a series that will captivate your attention. Euphoria takes on a realistic and raw emotion approach to modern day television. It takes on the ideas of drug and substance abuse, exploring your sexuality, and toxic relationships all within the walls of high school. The series has currently won three awards among its debut. 
The series is seen through the main character Rue's view. Rue (played by Zendaya) is a teen who was recently released from rehab for substance abuse. Rue, who is also battling an at-home relationship with her mother, so she seeks friendship in her community. 
Rue meets many new people including her blooming friendship with Jules (Hunter Schafer). Jules is a transgender teen who is discovering herself and her sexuality similar to other characters. 
Nate (Jacob Elordi) and Maddy(Alexa Demie), who also revolve in Rue's friend orbit, battle over in ongoing toxic and abusive relationship. Kat (Barbie Ferreira), another of the many perspectives we get is learning to embrace her body and truly discover herself as the series continues.
One of the best things about the series is its raw emotion and gives a real sense of the not so happy things that often happen among high schoolers. Unlike other teen shows that often don't deep dive into the bad and raunchy experiences, Euphoria does, and in a very original way. Euphoria shows the mistakes and learning experiences that many teens face giving the show a sense of realism. Showing viewers the raw emotion of withdrawal from substances and the party scene beyond the surface. Making this a binge watching series; you won't want to miss. 
Another highlight of the show is the soundtrack. The majority of the soundtrack is created by the artist Labrinth who created 26 of the songs used for the series. The music from the series adds to the aesthetic of the show making it better. The classic song "Still Don't Know My Name," one of many the Labrinth created for the series, is now one that viewers hear and immediately associate with the show. The music adds another component that puts the show into perspective when watching.
The series is able to show the highs and lows of teenage life in a ravaging way. The series will have you not wanting to stop watching. You will quickly be able to tell why it has all the buzz. It's available to watch on HBO Max.