Spider-Man weaves tangled web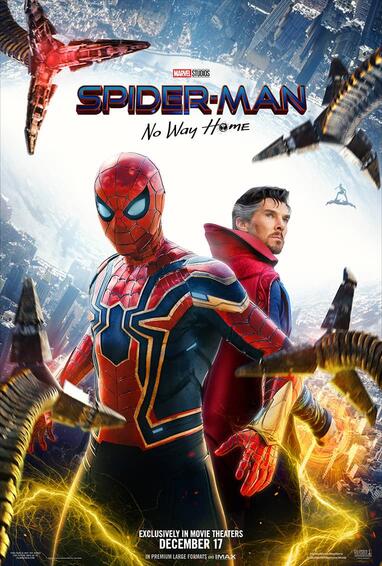 Spider-Man: No Way Home is a remarkable conclusion to the homecoming trilogy and serves as a brilliant appreciation of what came before. Without spoiling the film for anyone who hasn't seen it, No Way Home has the perfect balance of action, emotion and sheer awe, a film that could entertain any casual viewer, but was clearly a film made by fans for fans
Things get complicated after Spider-Man's identity is revealed and he asks for help from Doctor Strange.
It is honestly a good movie. It brings in old characters from previous movies that fans haven't seen in a while. It makes you feel like you're a kid again because of the excitement. The introduction and closure of former Spider Man's/ villains gave the older generation a last goodbye to their characters.
I wouldn't go in there with any expectations because you're more than likely to be wrong since the movie is based more off the comic book with a spin. Showing how Tom Holland's Spider-man can get under immense pressure and dark moments. 
The emotional impact of Peter's actions, which had been somewhat absent in Holland's Spider-Man movies, are finally felt. The villains are handled very well and I love the interactions that they had throughout the movie. The movie really set up Peter to truly become a hero of his own and fully and truly earn the name Spider-Man.
This was personally my favorite movie. I loved the story line and the idea of bringing back all the iconic villains from all previous non MCU Spiderman movies. This film could have failed on a big scale due to the many characters in the movie but John Watts did an amazing job by keeping all their past and present history at a minimum perspective. 
WARNING: Spoiler ahead!
I also LOVED how we got the return of both Andrew Garfield and Tobey Maguire as their version of Spiderman and their acting was as great as they were in their own solo movies. I also appreciate the other 2 Spiderman only showing up in the final act of the movie as an earlier appearance could have overcrowded the movie making it less enjoyable. I liked how they still kept the comedy of a Tom Holland Spiderman movie but had the dark moments because of the story that No Way Home was intended to tell us about Peter Parker's fate in the future for him. This movie gets a 10/10 from me and I can't wait to see what the future for Tom's Spidey is going to be.