Seniors dive into swim season
The 2021-22 swim team is striving to be the best they can be, both in the pool and out.
Head Coach Pere Dorsuleski has been working with his athletes, both new and old, to learn new skills and revamp old ones.
"Our team goals are to set some personal best times and to learn some new strokes," Coach Dorsuleski said. "We have a lot of new swimmers, and we're always working on getting faster and learning new skills. We're hoping to clean up a lot of the little things such as starts, turns, and technique."
Coach Dorsuleski is currently in his fifth year of coaching, and is excited to see what this year's team will bring to the table. 
"I love coaching because I constantly see the swimmers improving," Coach Dorsuleski said. "It's easy to track progress because their swim times are always getting faster."
After nine years of swimming for a Merrillville team, Senior Ciara Watson is relishing her final season as a Pirate athlete. 
"I honestly don't feel like a senior … the fact that this is my last year here hasn't really kicked in yet," Watson said. "I feel kind of excited though because I've been swimming for so long, but also nervous because I'm not too sure what I'm going to do with myself when it's over."
Watson began her swim career when she was 8 years old with the Merrillville Marlins Swim Club, and stuck with the sport through middle and high school.
"As a kid, I hated having to wear the little pool floaty things on my arms, so that's what pushed me to start learning to swim," she said. "When I got to high school, I knew I wanted to keep going with it, so I joined the team, and have been here ever since."
Watson is hoping to improve her mental game this season: allowing herself to have fun with her teammates while still dominating the competition in the pool.
"I just keep reminding myself of the end goal," Watson said. "Swimming does get hard sometimes, so when I get out of it I have to remember the improvements I'll come to make and my purpose for pushing through."
Watson credits her coaches for their efforts to make her a better swimmer and person. Through their guidance, she has learned to take constructive criticism and use it to her advantage.
"I used to not take [constructive criticism] well and it'd actually hurt my feelings," she said. "They'll be upfront with me, and tell me where my problems are and how to fix them right then and there…That discipline has definitely helped me in school too…I understand when I need to get myself more focused and get my work done. I've had to learn to balance school and extracurriculars, so having pressure to keep up from my coaches helps me stay on track."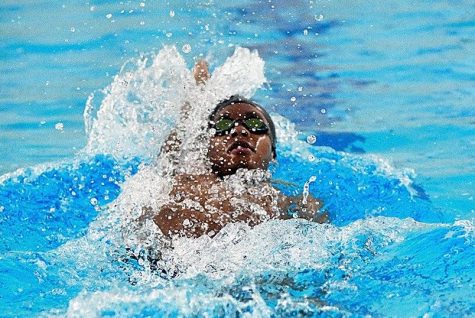 Coach Dorsuleski sees Watson as a great asset to the team through her dedication to the sport and roles of leadership.
"Ciara Watson is a great athlete and a great person," Coach Dorsuleski said. "She's always improving and doing her best: she's never okay with being okay and does whatever it takes to get to the next level.  She leads by example; and by working hard, she motivates her teammates to work hard as well."
She plans on continuing her love for swimming through her future career as a marine biologist. So far, she has applied to Florida State University, University of South Florida, University of Tampa, and Jacksonville University.
"I definitely think swimming had influence over my future career goals: I really do love being in the water and at the beach, and swimming helped me learn that about myself and led me towards choosing my major," Watson said.
Senior Kamryn Outlar has also served as a strong leader for his team, making winning times in events such as the Medley 200 Relay, 200 Freestyle, and 100 Backstroke. 
Outlar discovered his love for the sport at a young age, and has been swimming for nearly 10 years. In middle and high school, he took the opportunity to try different sports, getting a little taste of everything, but he soon realized that the pool is where he is meant to be. 
He hopes to keep his streak of success alive through the season by getting times shorter and eventually placing in the top at Sectionals: Goals that Outlar has put the efforts in to achieve.
"Kamryn is the hardest worker I know," Coach Dorsuleski said. "He sets goals for himself and does whatever it takes to achieve them, he knows the hard work and sacrifice it takes to get to the next level, and he's willing to do everything it takes to be the best. 
"Not only is he a phenomenal athlete, but he's an even better person. He comes in early and stays late to help set up for practices and meets … He trains other swimmers so they get better and motivates the team so they're always focused and doing their best."
Outlar has a simple philosophy when it comes to racing. 
"Go out there," he said. "Go out there, and swim fast."