Seniors beat the heat to help build home for family
On a recent 90-degree day, the MHS senior class took a field trip to help build a house for those in need. On the way there, expectations were low and excitement was high. Most anticipated just standing around and handing the actual construction workers water and food. 
However when they stepped off that bus, they were in for a big surprise. 
When Sarai Jones got there, she was excited, but once she began working, she felt a little scared of the dangers of the power tools.
"I think I'm happy with the experience I got. It was exciting. It was new," Jones said. "It was not something you get the chance to do everyd ay. I would've maybe preferred a little less work because it was so hot, but I'm glad I did what I needed to do. And it was great exercise."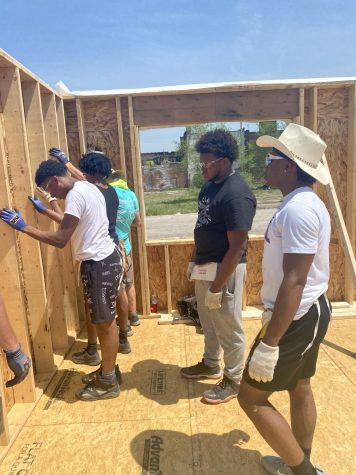 The students work was through the group Habitat for Humanity, a nonprofit organization that helps build or improve homes for families in need.
Erickson Gibson Jr. also enjoyed helping out, but he has one regret.
"I would have rather actually built the whole house to just have the experience," he said. "I just want to say 'I built the whole house' but I just put three walls up."
Overall, Gibson was happy he could help people in need. 
"I felt accomplished and proud because I've never done anything like that anyways," he said. "I would know that when they're finished we had a part in the process of building the house for [that family]."
Senior class president, Azariah Crosby, didn't expect for the build to be so tiring and felt that her and her fellow classmates made more progress on the house than she expected..
"It was nice to be out there and doing something different, especially for me because I've never partook in any activity like that, as far as hands on kinds of things," she said. "So, it was kind of fun. It was different. Especially to give back to our community and we gave them a check as well."
Benzi Corrales felt excited when he realized that they were there to actually get work done. 
"I would rather be putting in work rather than giving out sandwiches," Corrales said. "So, really using my hands and cutting stuff and nailing stuff really felt fulfilling."
Corrales also took into consideration the effect the building of this house would have on the family. 
"It was really fun knowing that it's going to a family that really needs it, so they can use their money on stuff that they need," he said. "Of course, they need a house, but a house is a really big payment. So, they could use it on groceries. It's really cool that we helped them."
Despite the soaring temperatures and hard work, the seniors left feeling fulfilled.
"I definitely say it was worth it because not only did we help build a home for people, but we actually bonded together as a senior class," Crosby said. "Those that we may not talk to every single day or check in on, we all learned new things about each other. We just overall had a good time."