Marc Jacobs bag continues to be popular choice
The Marc Jacobs Tote Bag has recently been blowing up all over social media. A bag trending this much has to have an origin. 
The bag was launched in 2019 and 100,000 bags were sold that year. Many students have been spotted with the bag in and outside of the building.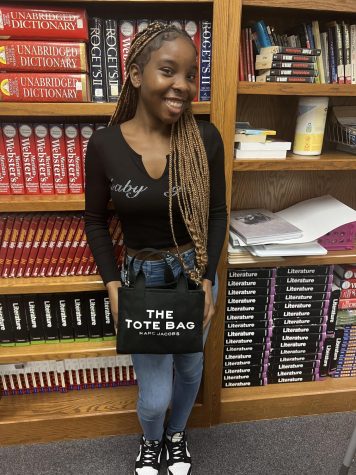 Senior K'nyla Roberts likes the bag because it can hold a lot of things and she carries a lot of stuff.
"I got the bag because it was trending," she said. "I never had a big bag that I can just carry around, all of my purses have been small and of bad quality, but then I saw this bag trending on TikTok and it looks like it holds a lot of stuff. It looked like something that I needed. It's big enough to hold a hairbrush, hand sanitizer, lotion and stuff that you need just in case." 
The bag comes in a variety of materials and patterns. Roberts believes the bag became popular because of TikTok. 
"Everyone is on Tiktok and Tiktok videos are always trending, so when you see something on your for you page and someone is telling you to get it, go grab it, then you just want to see what it's like and you want to have it," she said.
Sophomore Morgan Joubert's cousin had a bag, so she decided to get one for herself.
" The thing I like most about the bag is the fact that it is big," Joubert said. "I can carry everything in it and it goes with almost everything, so I wear it a lot. I have two bags, so yeah,  it's just a nice bag. I would get another bag, the all black one and the smaller version."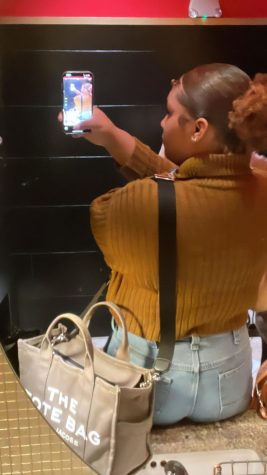 Roberts would suggest that if you carry a lot of stuff with you, like more than what you can fit in a normal-sized purse, then you should get the bag.
"I can kind of see why the bag is more expensive because Marc Jacobs is a popular brand and it's on the expensive side," Roberts said. "They sell shoes and clothes and those items are expensive, as well. I feel like this purse is a little cheap compared to the other merchandise that Marc Jacobs sells on their website. I would get another bag and maybe try one of the more expensive ones this time." 
Joubert noted that if you want a bag than be prepared to pay a pretty penny because they are pretty expensive. 
"I had to go half on the first one I have, so I'm going to say it was an investment and I had to wait to get it," she said.
Leave a Comment