Thespian Troupe experiments with casting in timely one-act play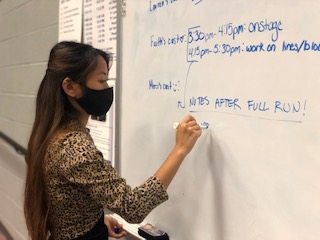 One minute, one wrong decision, one careless mistake can change your life forever.
Thespian Troupe #1692 will be performing Swagger, a short play by Eric Coble that tells the story of three people whose lives are ruined due to an act of violence caught on camera. No one really knows whose fault it is. Throughout the show, the characters all get a chance to explain "just how it all went down."
Director Mr. Thomas Mackey says he picked this show specifically because of the show's timeliness in what is happening in the world today.
"With the recent spate of police-involved violence, I saw an opportunity to use theater as a means of starting a conversation," Mackey said.
Instead of doing one full-length show, Mackey decided to choose a show with a smaller number of actors and having multiple separate casts.
"Because there are only three characters in the play, having three casts is a way to get more students involved," Mackey said. "But more importantly, the script indicates that the three roles can be played by people of any gender or race, so we mixed up the demographics of the three casts so the audience can watch the same events unfold multiple times with people who are identifiably different."
"The hope is that the audience will then talk about how their perception of the events changed based on the appearance of the people involved."
Actress Leah Mallon (12) plays the protective Officer Danielle Ford.
"She's a police officer, running the neighborhood, keeping an eye on everyone, and doing the best she can. She's a little socially awkward, but she makes up for it by being so personable," Mallon said.
Mallon has been seen in numerous shows in her high school career. This show, she says, has been quite different from previous years.
"This year, we have a much smaller cast than fall plays in the past. We only have three people in each cast, so it's a bit of a different atmosphere," Mallon said. "Also, because of the masks, you can't rely on your face to tell your character's story. You really have to physicalize your character through your body and tones of voice."
Merci Tan (11) is one of three student directors for the show. While she has been performing in shows since her freshman year, this is the first time she has ever directed.
"Being a director is a lot more difficult than I had imagined it would be," Tan said. "As the director, you're the one creating how the whole play looks on stage and how the actors portray each character. For me, acting is a lot easier 'cause you're just following directions, but as the director, you're the one giving the directions."
While she is extremely proud of all the performers, Tan says there are a few who really stood out to her.
"I'm really impressed with Terry Thomas (9) and Ambree Dawson (9)," Tan said. "Terry has had a few problems with memorizing lines, but when he knows them I can really tell that he's a quality actor. Ambree is an understudy, but still acts her part amazingly from when I watched and critiqued her monologue," Tan said.
This year, the show will be virtually broadcast and streamed online.
"The exact cost and release dates for the play have not been released yet, but they will be announced shortly," Mackey said.
Mackey knows his students have worked very hard on this show, and hopes that people will take the time to appreciate their masterpiece.
"You should see the show because theater has the unique capability to discuss uncomfortable subjects in an unbiased manner while still being entertaining," he said. "Because supporting students who create theater is important for their development as artists and leaders in the school. Because theater has a profoundly positive impact on those who regularly support and watch plays."
About the Contributor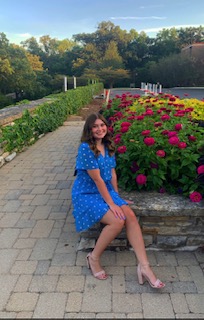 Lauren Molenda, Editor
My name is Lauren Molenda and I'm a Junior here at Merrillville High School. I'm also the Vice President of Merrillville's Thespian Troupe #1692 and...