Hyland serves as role model for girls varsity soccer team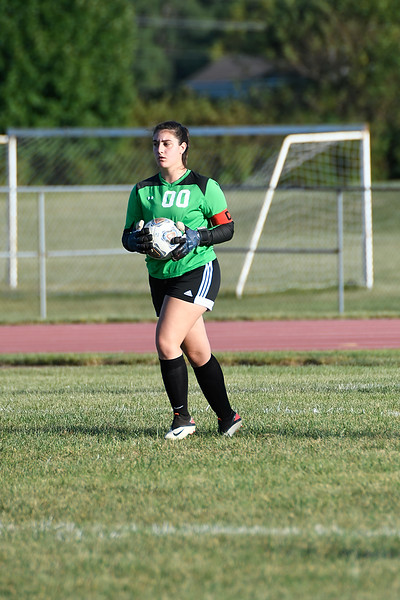 The girls varsity soccer team is kicking their way through the season, with Senior Katie Hyland driving the team forward as an experienced player and role model.
Hyland began her soccer career at a young age, giving her nearly seven years of experience in the game.
"I saw my friend Amber playing in 5th grade and it really seemed fun," Hyland said. "I went to a couple of her games and knew it was something I wanted to be a part of, so I started playing the next year and it just stuck with me."
Thanks to her knowledge in the sport and experience on the field, Hyland has played a key role in the team not only as a player, but also as a leader.
"Sometimes it is a lot of pressure to be an example and always do the right thing, but I'm glad I can be that for the younger players," Hyland said.
This year, the Pirates have taken hits from powerful teams. Despite this, Hyland believes their efforts have been strong.
"We've been playing to the best of our ability," Hyland said. "Some games are better than others, but we've definitely been trying our best."
In previous years, Hyland dabbled with various roles on the field, but has taken on the goalkeeper position for her final season of her high school career.
"Playing goalie can definitely be stressful," Hyland said. "I'm newer to playing this position, so it's a change for me. I started off playing defense, so I'm used to helping the team out and being more involved in the game, but I don't get to do that as much playing goalie."
No matter her title on the field, Hyland has come to love the sport and the bonds she has made with her teammates over the years.
"I'm really sad [that this is my last year playing] because I definitely enjoy playing soccer, but at the same time I'm excited to be moving forward with my life and my future."
Hyland's efforts have not gone unnoticed.
"Taking on the role as captain for her senior year really pushed Katie to reach her potential as a leader on and off the field," Assistant Coach Camryn Rassbach said. "It's refreshing to see her step up and be someone the other girls look up to.
"She is the ultimate example of how a soccer player should act and play on this team. She is one of our most valued players on the soccer team…we are going to miss her, but are very excited to see what her future holds."