Travel teams boost Pirate players skills
With the goals of keeping their skills sharp and exploring their abilities on the field, many of the MHS baseball team's current players have trained and worked through the off season, bringing high hopes of a successful upcoming season for the Pirates.
Over the years, Junior Robert Richardson has taken part in Little League, recreational sports, and even played on travel teams, including the NWI Shockers, to improve his game and continue to pursue his love for the sport year-round.
"It helps me stay consistent," Richardson said. "If you work on your craft throughout the year, you can perfect it for the regular season. It helps build relationships with different players, too. Obviously your teammates from school are different from your teammates in travel ball, so you get to work with others that you don't exactly see every day. If you can build a connection with people every day, it'll make the game more fun and when you get on the field it will all come together."
Richardson started playing baseball at the age of 6, having an influence from his older brothers and even a family member, Kenny Lofton, who formerly played in the MLB.
"It's kind of like therapy to me," he said. "I like playing, building relationships with other people both on and off the field, and it's just my favorite sport to play. I feel like with a lot of other sports there's always a time constraint, but with baseball it's not really like that. There's always a chance to come back. In other sports, you can just run through the clock to win that way, but in baseball you have to constantly compete with every pitch."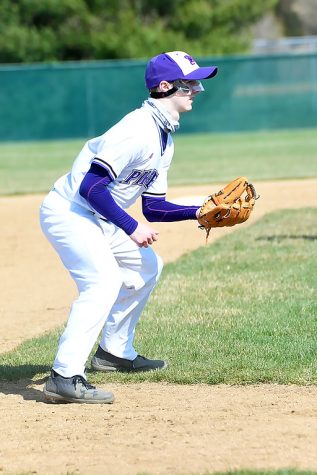 Like Richardson, Senior Colin Rogers also began playing at a young age, and his love for the sport has only grown ever since.
"Ever since I could walk and run I've been playing baseball," Rogers said. "My dad really got me into it. He was always a big baseball guy and he grew up playing baseball, so he kind of inspired me to play too. I got really interested in it and saw that it was more than just running in circles and hitting the ball. … there's a lot more behind it. My dad has been coaching me for years, up until I was 16. Since then, I've been teaching myself and working with my new coaches to improve."
Growing up Rogers played for different club teams and Little Leagues throughout the region and began to explore his options in travel ball as he progressed through his high school career.
"The first year I played travel was in 2020 because all of the Little Leagues and recreational teams had stopped playing because of COVID," Rogers said. "So I went and played travel with the Chesterton Renegades. They were an OK team, but just weren't the fit for me. They were all about power, and I'm more of a directional hitter, so after playing with them for a year I quit and went to play for Lowell and Crown Point Babe Ruth.
"That was where I played with Coach Phillips… he and I like to talk about strategy and he basically lets me pick our plays because he knows I have a little more baseball smarts than some of the other kids, so he lets me teach," he said. "Through me teaching them, I can learn other stuff from how other players think about how plays should be done…it gives me some ideas and perspective."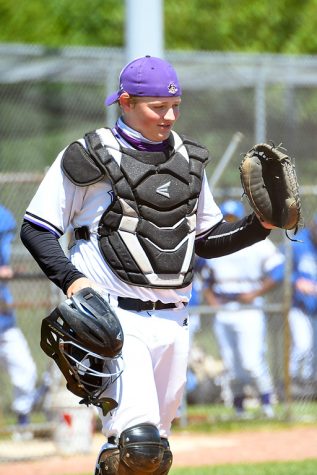 Junior Colin Early has also developed his skills through other teams, making progress in himself as a player and gaining memorable experiences at the same time.
"Playing for travel teams throughout the years has probably been the best experience I have had while playing baseball," Early said. "Not only are you traveling to play a sport you love, but you are traveling with your team and staying in the same hotels, which helps with team bonding. Travel ball has helped me make new friends from all over different cities, states, and even countries. It has helped me develop mentally and physically, helped me stay active over the summer, gain more experience with the sport, and just become a better player overall."
Unfortunately, options for playing during the off season are very limited in Merrillville due to a lack of Little League, recreational and travel teams.
"I definitely think that not having a little league program in Merrillville is hurting our program," Early said. "As the years go by, it has come to our attention that the level of skill is dropping off quickly, which is forcing us to develop people and teach them all of the basic skills they need in order to play baseball. Other schools, such as Crown Point and Lake Central, don't have to teach players in high school how to throw or catch or hit because they had those good Little League programs.
Early said that not having a feeder program through Merrillville has also put more pressure on coaches to develop a strong team with skilled players.
"Baseball isn't a sport where you can just pick up a bat and automatically hit a home run or pick up a baseball and automatically throw 90 miles per hour, you have to have played for a while in order to develop those skills," he said. "That is why having a good little league program can help a high school baseball team."
As a leader and seasoned player on the Pirate team, Rogers has also noticed the harmful effects that not having direct access to these programs has had on Merrillville baseball.
"Just seeing the kids coming in even from our youth camp that we had and tryouts, I can just see a decline in skill level," Rogers said. "These kids aren't where they should be for high school competition because if you compare our school to Lake Central and Crown Point, they have the funding, the youth teams … and it shows because those kids have the knowledge. With my experience, I've been able to find out my strengths, but the kids coming in now don't really even know what position to play because they've never played before."
Rogers hopes that through training and practice the team can build up their skills in preparation for the quickly approaching season.
"It's all about practice," he said. "Getting the fundamentals down and taking those fundamentals and incorporating them into more advanced plays that we have. One big thing that we worked on last year but didn't quite get the hang of was hitting to the opposite field. If you hit to the opposite field you almost always will get a base hit because the right fielder is usually one of their lower skill level players. That extra base can be that one run difference you need to win a game."
The varsity team is currently made up of 10 Seniors and 5 Juniors and Sophomores, bringing the formerly young team to one with more matured players who have greater experience on the field.
"Having experience has allowed me to take on somewhat of a leadership standpoint," Richardson said. "Last year I was like the student, but now I'm taking on the role of a teacher through explaining things to the underclassmen and coaching them up."
Personally, Rogers has been putting in the work to make his final season as an MHS Pirate prosperous one.
"I'm always analyzing what I'm doing," Rogers said. "If I make an error, I go back… I try to record myself when I can so I can actually see what I'm doing, I try to go through my head and ask myself 'What did I do wrong there?' or "What can I do better?'. I may not have necessarily done something wrong, but there's always something you could have done better…I always look to see if there's a different move I could have made or a smarter play I could have made…"
After playing for the Pirates for all four years of high school, Rogers knows saying goodbye will be a bittersweet experience.
"I know it's going to be a good year and a good experience, but it's definitely going to hurt when it's over," Rogers said. "I'm going to miss a lot of these guys. I know that Senior night I'm gonna start crying, the very last game I'm definitely gonna be crying, Andrew [Early] is gonna start crying, everyone is gonna be crying."
After graduation, Rogers plans to continue his baseball career into college through a NAIA or JUCO program. He hopes to leave a lasting impact on the program as he continues on to greater opportunities.
"I'm hoping to just show the underclassmen that if you put in the work and get the motivation you can do a lot and you can get a lot better," he said. "The underclassmen right now need to focus on skills, so if they take the time out of their day, even after practice to just go to the cages and get in a few extra swings and look at yourself, see what you can do better, they can improve by a lot."