Tumblers making a splash this winter
Siblings Kionna and Kiron Rodgers have been doing trampoline and tumbling for several years, but this winter they decided to take take their twists and turns to a new arena — the pool.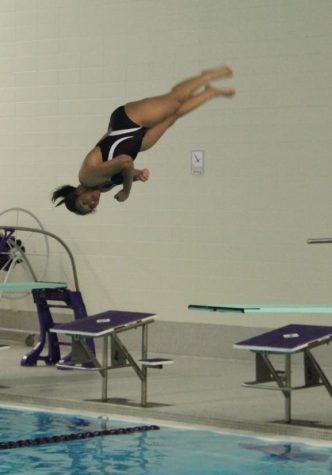 The pair are starting off strong for the swim team. Kiron has finished first and second in his two meets while Kionna took first place against Portage last week.
With the siblings' mother being a trampoline and tumbling judge, they are used to being judged on precise jumps and flips in the air. 
"[She] is one of my biggest coaches," sophomore Kiron said. "She's the one that talks about me all the time, the one that pushes me to the highest level, and helps me with all my skills." 
Heading into the diving season, the Rodgers prepared by using the trampoline to practice somersaults and front full twists.  
Although skills from trampoline and tumbling are similar to diving, it's not all just smooth sailing. 
"Going head first into the water was the hardest for me," senior Kionna said. "I try not to get smacked or faceplant but sometimes it happens. That's why I have bruises now." 
Even with the pain of smacking against the water and the bruises, she is still having fun. 
"Everything is new to me," Kionna said. "And I just have fun learning how to do it." 
Being a beginner in any sport comes with its ups and downs, but Kiron tries to stay calm through it all.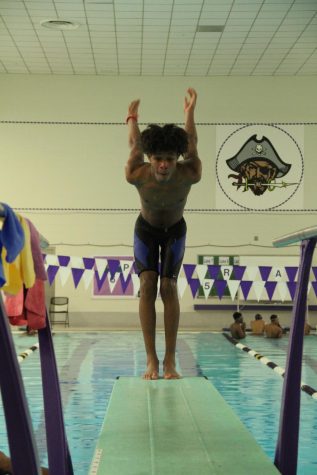 "I really haven't competed in diving [yet], but when I'm doing a new skill, I stay calm, so I won't freak out in the water," Kiron said. 
Staying calm in the water is key for him this season. 
"I can't swim," Kiron said. "I dive and get right back out." 
Despite that, he still feels relieved when he finally hits the water after a dive. 
End of the season goals have been set and the Rodgers siblings hope to continue to use their experience in trampoline and tumbling to improve their diving technique. 
"I want to make it to state, have fun and cheer on the team," Kionna said.