Week of e-learning brings divided response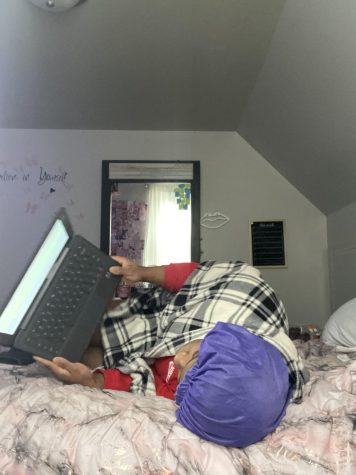 News that Merrillville schools would be going to virtual learning for a week bought back some feelings of uncertainty for students. 
Senior Josiah Nicholes felt "discouraged and irritated" when he found out that MHS was returning to virtual learning.
"Knowing how things first went with going virtual, I feel as if it can scarily go back to that," he said remembering spring of 2020.
Last week, the administration announced that the Merrillville Community School Corp. would move to virtual learning for the week of Jan. 10th due to staffing limitations.  According to the announcement, the school corporation was experiencing rising COVID cases, which impacted the school corporation's ability to properly staff buildings and provide bus service.
 Nicholes believes that his biggest struggle with virtual learning will be remaining focused.
"When I'm not in a central learning setting, I get distracted fairly easily," he said. "I also have far more distractions outside of a learning setting."
Nicholes believes that virtual learning will ultimately hurt learning and has no beneficial value.
"I believe that virtual has nowhere near as much of a positive impact on learning compared to in-person," he said. 
Senior Kaelyn Selmon is also worried about focus during virtual learning.
"Because at home, there is always something going on and there's always something I'd rather be doing than schoolwork," she said.
 "It just brings me back to last year during virtual when my grades were lower than they have ever been. I wasn't surprised [by the news], I just hope it doesn't last longer than a week."
With this being Nikiyah Wolf's final year in high school, she does not want to spend it on Zoom and Google meets, but instead being able to engage in person with her teachers and peers. 
"I wasn't in school when the news broke that we were going back virtual but I felt pretty sad when finding out because it is my senior year and I don't want a repeat of what happened two years ago where we just stayed virtual," she said.  
"Last year virtual learning took an impact on my dance season because it inevitably took away my entire basketball dance season," she added. "It was pretty upsetting. But as far as this year it isn't as bad because nothing has been taken away so far." 
Merrillville made a statement letting everyone know we will only be virtual for a week, which still gives time for students such as Wolf to participate in winter and spring sports.  
Senior Andronakis Clay recalls actually being happy about the brief renewal of virtual learning. He said his bus is consistently late, meaning he often has to stand out in the cold and arrives after classes are underway. 
"It was terrible really, but on top of all that being home is a blessing altogether," Clay said. "Despite me complaining about virtual learning the first time . . .,  I love having the opportunity of getting side-tracked during virtual learning. Being on calls with friends and my girlfriend during school is fun even though it causes my grades to plummet."
Clay felt that with the prolonged virtual learning, he struggled to focus and didn't retain anything because of teachers lecturing for long periods. He also began to feel down because of the negative reality of not being able to see his friends for a long time.
"But now that virtual has returned, I do feel better about it," Clay said. "There's less stress surrounding it. All that has been replaced by more leisure than anything although I do hate having to do chores at home now that I'm here every day." 
Senior Amaria Hardaway also is relieved to be back online, but admits online learning does come with some difficulties. 
"I think the hardest part of virtual learning is paying attention in class and not getting distracted easily," she said. 
However, she is relieved to go back to virtual learning so everyone can quarantine properly and she can have a break from the stress of in-person school. 
Sophomore Halle Price is another student who favors virtual learning.
"Virtual learning is better for me because I can focus more with less distractions," Price said. "I like to wake up later and I can work do my work better during virtual learning."
Meanwhile, other seniors worry about missing out during their final year here.
"I can't say that I'm happy to be back at home even if it's for a week because I hate not having that social time with my classmates, especially since this is my last year of high school I want every second to matter," Mary Thigpin said.
Despite reassurances that virtual learning is only for this week, some students worry if they are really coming back or if this is a repeat of March 13, 2020.
"This reminds me of when this happened two years ago and it was only supposed to be for a short period of time but then the times just kept getting longer and longer to the point where we just never came back at all," Thigpen said.