Valedictorian, Salutatorian share inspiration for academic success
The school year is coming to an end and by this time seniors are getting prepared for graduation. Whether it's getting dressed in new clothes, or preparing for the walk to their diploma, sometimes it can be stressful. Especially for those who are at the top of their class, giving a speech to hundreds of people can be nerve wracking. Handling this pressure although, is nothing new to these students.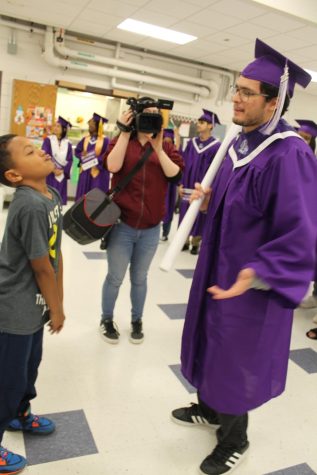 It can be difficult for students to have the drive to maintain their own life and school grades. So what inspires those who go the extra mile to pursue education. Valedictorian Vincent Feliciano said that it is family that pushes him forward.
"When I was younger, my mom always wanted what was best for me," he said. "She always told me that I could be valedictorian. Personally it was not a dream of mine, but she always believed in me, sacrificed, and dedicated her time, and just invested all her time to get me to this place. So it was our victory."
Salutatorian Aiden McLaughlin said it's those around him who encourage him to be at the top. 
 "I guess it's being surrounded by people who expect the best out of me. Like my mother and I've been friends with people who are top of the class, always pushing me to be better," McLaughlin said.
It is a great accomplishment for those to reach scholarly heights as these two have, and they had advice to say to those who want to be at the top of their class. 
"Don't even think about it," Feliciano said. "I always had to put my best effort in, but sometimes if you just go along with it, and do what you know how to do, you'll end up achieving all you want. Don't focus your whole life on it, and make it your soul goal in life. Don't make it into a narrow tunnel, make sure you save time for happy memories and friendships."
But McLaughlin believes the destination is more important than the journey. "Just knowing that at the end, to be able to look back and knowing that you gave everything you could to get to a better place academically. Knowing that that will open up a better future for whether that is college or an institution," he said.
The expectations and rigorous requirements of being a salutatorian or valedictorian can sometimes be too much for one person. So how are our students handling it?
 "Some of the hardest expectations are people expecting me to have the answers to everything," Feliciano said. "I know many people ask me for help and I'd give them advice but I'd tell them to take it with caution because I don't want to lead them wrong. And this speech, everyone is expecting a great one, and I'm hopefully prepared to deliver, but if not and I'm disappointed, you guys know where to find me."
But the salutatorian feels that being at the top is a slippery slope with jagged edges
"Always being worried that I'm going to slip up somewhere and that's going to make people feel like I'm less of a success or anything. Because being at thetop everyone expects you to know everything, so the moment you don't know something, it's like, the worst feeling," McLaughlin said.
Everyone is wondering what the speeches from the class's top placers are going to be like. Feliciano feels that the journey getting there is important to talk about.
"Well, first I'll introduce myself and talk about how I got to where I got. I'm planning to go through every school year from freshman to senior year talking about how we made it. Then at the end I give inspiration in a 'seize the moment' type way," Feliciano said. 
 McLaughin plans to address those who have helped him and the future for our students. 
"It addresses the people who made a big impact on me . . .  like Mr. Niksich, and talking about how the future holds something different for all of us and this time here is here to prepare us for the future. And if you just stay  focused and be diligent you can accomplish what you are trying to do," he said.